scrounge: /skrounj/ informal verb: to actively seek [books] from any available source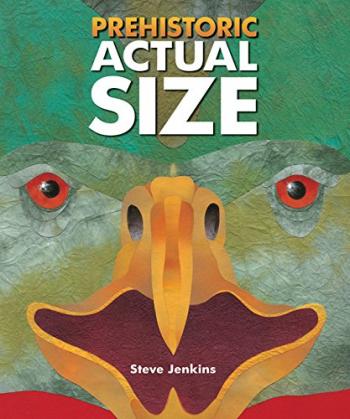 Prehistoric Actual Size is a really neat book that highlights several extinct species from long ago, including some dinosaurs, but also other kinds of animals such as a giant millipede, a terrifying-looking horned rodent, and a "terror bird," among others. Since dinosaurs tend to get most of the attention in the prehistoric world, it's nice to see a variety of creatures here.
The illustrations show each creature as their actual size, as the title indicates, which is easy for some, but for others means only small parts of them actually fit in the book, such as teeth or a claw. It's a fairly large-sized book, but it also includes a fold-out page to give a bit more room to a few creatures.
Scrounged From: A used book sale
Format: Hardcover
Author/Illustrator: Steve Jenkins 
Pages: 36
Content Advisory: None

Blogs on This Site

Reviews and book lists - books we love!

The site administrator fields questions from visitors.

Like us on Facebook to get updates about
new resources