scrounge: /skrounj/ informal verb: to actively seek [books] from any available source
Category results for '2nd-grade'.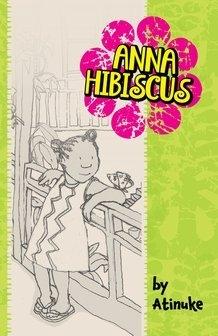 Anna Hibiscus is a short, four-chapter book about a girl who lives in Africa... "Amazing Africa." She is part of a large, busy extended family who live in a large white house and are always there for each other -- which can sometimes get to be too much, as the first chapter begins with Anna going on a vacation with her parents and siblings. But before long, they realize just how important it is to have all the various members of their family around -- from the cousins to the uncles, aunties, and grandmother and grandfather. 
My children (7 and 4) both enjoyed this as a read-aloud, and I loved getting this little glimpse of a family living in Africa, though there are still some connections to North America, as Anna's mother is Canadian and she also has an (African-born) aunt who lives in America. I remember watching a TED talk by Chimamanda Ngozi Adichie talking about the danger of believing a "single story" about a person or place, but specifically Africa and the way the continent and its people are often portrayed in American media. Like Adichie, the author of this book, Atinuke, is Nigerian-born, and while we're not told which country Anna Hibiscus lives in, the characters and setting are portrayed in a familiar, loving way -- in a way that adeptly highlights both differences and similarities between the lives of Anna and the hypothetical American reader. 
While Anna's family appears financially secure, poverty is touched on in a couple chapters, and I thought it was handled especially well in chapter 3 when Anna wants to sell oranges like the girls she sees out on her street. It could be a good lead-in to discussing things like poverty, responsibility, and privilege. We're looking forward to reading more in this series!
Scrounged From: Amazon
Format: Paperback
Author: Atinuke
Illustrator: Lauren Tobia
Pages: 109
Content Advisory: None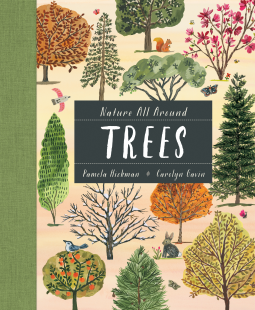 I love the bold and detailed (and very green!) illustrations in Nature All Around: Trees. This nonfiction book (hopefully the start of a series?) provides lots of basic information about trees -- from the differences between deciduous and evergreens, to pollination, photosynthesis, classification, as well as a look at how trees change over the course of the four seasons.
In addition to providing general information, this book gives some tips on exploring and appreciating the incredible variety of trees in the world, and the many different ways they help us and the environment by cleaning the air, and providing fruit, shade, and shelter for animals.
It's not too information-heavy, but would be too wordy for preschool-age children (though a glossary is provided at the end for words like cambium, stomata, cotyledon, etc.).
(Thanks to NetGalley for the review copy.)
Scrounged From: NetGalley
Format: Kindle
Author: Pamela Hickman
Illustrator: Carolyn Gavin
Pages: 32
Content Advisory: None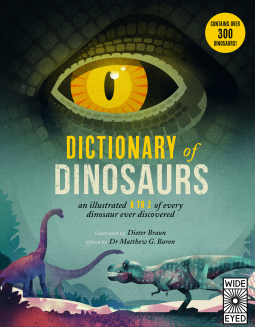 Dictionary of Dinosaurs is a really neat collection that lists all the dinosaurs discovered up to this point. Length, diet, and when/where the animal lived are provided for each dinosaur, as well as a name pronounciation guide (very helpful!) and the meaning of the name, some of which are very interesting. I learned that there is a dinosaur whose name was inspired by Lewis Carroll's Jabberwocky poem (borogovia)!
On each page, a dinosaur or two (but not all of them) are highlighted with a color picture, a blurb of information, and a silhouetted picture comparing the dinosaur's size to that of a human. Most of the more well-known dinosaurs (tyrannosaurus, stegosaurus) are highlighted this way. Since marine reptiles and flying reptiles are no longer considered "dinosaurs" (something that apparently happened between when I was a kid and when I had kids old enough to like dinosaurs), they are unfortunately not included in this book.
In the beginning of the book is some general information about time periods, fossils, etc., but I found this statement interesting: 
"New information about dinosaurs is being discovered all the time. Dinosaurs often change name, or their dates change once more information is found out about them. This means it's a very exciting field to get into and learn about. You could even discover or name the next dinosaur one day!"
In other places, the book notes that certain dinosaurs may not actually be separate species, but scientists made the best guess they could based on the evidence. I really like the way this portrays science as an ongoing effort rather than a static collection of information. 
As is obvious from the title, this isn't likely the kind of book you'd want to sit down and read all in one sitting, but it's a great reference for dinosaur-loving kids, full of colorful pictures and current information -- for now!
(Thanks to NetGalley for the review copy.)
Scrounged From: NetGalley
Format: Kindle
Author: Matthew G. Baron
Illustrator: Dieter Braun
Pages: 184
Content Advisory: None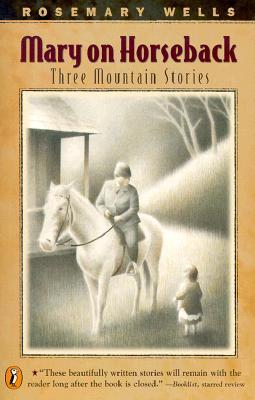 Mary on Horseback is an interesting and inspiring story -- I don't remember hearing about Mary Breckinridge before, but this is a great introduction to her work, written in three short stories that also help give children a picture of what this time period and region were like.

After losing two husbands and two children, Mary Breckinridge could have given in to despair, but instead she gave her skills and her life to help others, the poorest of the poor. Whether she is saving a father's leg from amputation, inoculating children against deadly diseases, or delivering and caring for babies, Breckinridge and her team of frontier nurses served the people in the Appalachian region and helped them in ways no one else would or could.
Scrounged From: HomeschoolClassifieds.com (Sonlight Core A)
Format: Paperback
Author: Rosemary Wells
Pages: 64
Content Advisory: Some descriptions of illness and injury.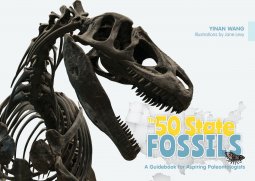 We enjoy reading about dinosaurs and fossils around here, so I found The 50 State Fossils: A Guidebook for Aspiring Paleontologists not only a great introduction to fossils, but also a unique viewpoint on American geography. Since fossils are found all over the world, it's sometimes hard to remember which dinosaurs roamed when and where, etc. This book helps to give fossils a distinctly American context.
Of course, while dinosaurs are probably the most famous and cool fossils out there, the general category of "fossils" involves a lot more: mammoths and other ancient mammals, plants, shells, footprints, and more. It was interesting to read about which kinds of fossils are more common in which states. For the few states that do not yet have an official state fossil or dinosaur, the book gives a brief history of attempts as well as a suggestion or two of what might make a good choice. I really had no idea what my state's fossil was, so I appreciated getting the chance to read more about it (pertica -- a unique plant).
There is a page here for each state, which includes the fossil name, scientific name, time period, a couple illustrations and/or photos, and a several-paragraph description. The beginning of the book gives some information about how fossilization occurs, time periods, etc., while the end of the book includes a glossary and also a list of places (such as museums), per state, where you can visit to see fossils. Very cool and informative!
(Thanks to NetGalley for the review copy.)
Scrounged From: NetGalley
Format: Kindle
Author: Yinan Wang
Illustrator: Jane Levy
Pages: 64
Content Advisory: None
Older posts

Blogs on This Site

Reviews and book lists - books we love!

The site administrator fields questions from visitors.

Like us on Facebook to get updates about
new resources