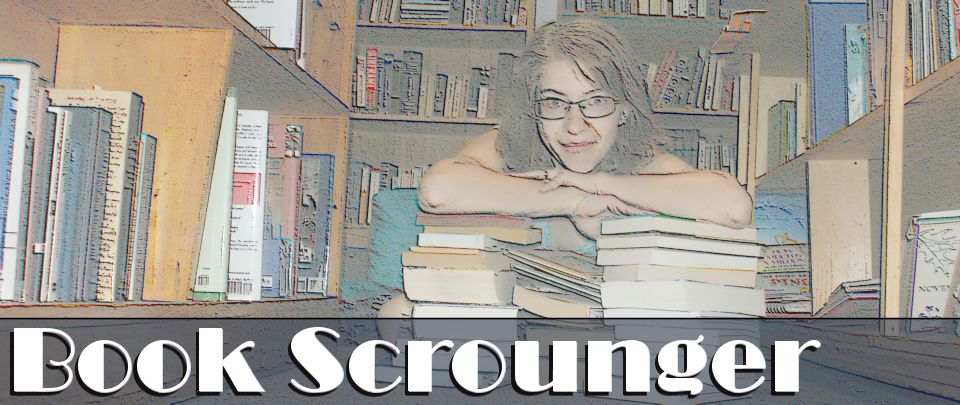 scrounge: /skrounj/ informal verb: to actively seek [books] from any available source
Category results for 'Caldecott-Medal'.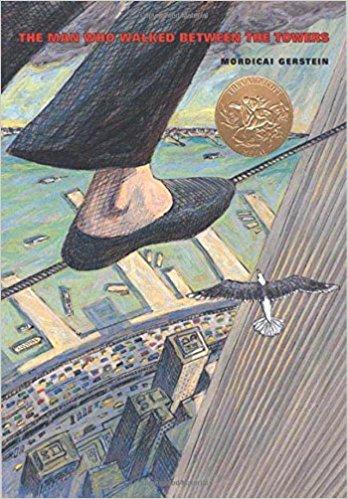 I can't say I've read my children many picture books that focus on a (currently) illegal activity, which is partly why The Man Who Walked between the Towers is so interesting. I'd heard the story of this tightrope walk before, in generalities, but just kind of assumed it was an "approved" act. But no, in 1974 Philippe Petit really did sneak a large roll of cable into the World Trade Center and fasten the cable (with help) between the towers so he could walk and perform at a dizzying height.
This book treats the story fairly matter-of-factly, without moralizing or giving excessive words or details. The illustrations are certainly evocative, and remind me why I'd never even attempt anything this crazy! Petit must have been out of his mind, and yet there's a part of me that has to admire his charisma and courage/insanity a little after reading this.
Scrounged From: Our local library
Format: Hardcover
Author/Illustrator: Mordicai Gerstein
Pages: 34
Content Advisory: The act described is illegal and dangerous, so there is that. But I don't get the impression that the book is encouraging such things.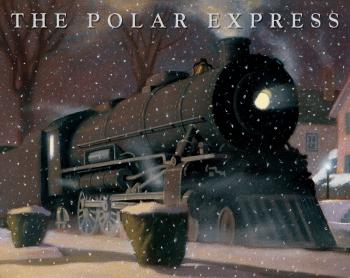 The Polar Express, by Chris Van Allsburg, is probably the first thing that comes to mind when I think "classic Christmas picture book." I grew up with this book's quiet imagery of light and shadows, and was captivated by the mysterious nature of this train that just shows up at a boy's door on Christmas Eve.
Even after years of knowing how the story goes, I still feel the disappointment in the boy's voice as he talks of losing his present, and his relief at receiving it again the next day.
While I enjoyed the music in the movie adaptation, I don't think it did the book justice -- the book really captures the wonder and anticipation of Christmas, as well as the sadness of loss and the joy of rediscovery.
Scrounged From: A Christmas present when I was two years old
Format: Hardcover
Author/Illustrator: Chris Van Allsburg
Pages: 32
Content Advisory: None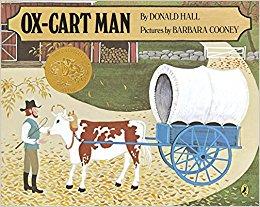 Ox-Cart Man is a book I grew up with, as did many others in my generation. Not only did it win the Caldecott Medal in 1980, but it was also featured on Reading Rainbow, a PBS show that helped so many of us to get or stay excited about reading. 
It's the story of a year in the life of a farmer in the early 1800s, and describes all the things that he and his family grow, build, weave, and otherwise make, which the ox-cart man then takes to market to sell, one by one. 
But rather than begin at the "beginning" of a year, the story drops us into the almost-end of the cycle, into the cool of an autumn countryside as the man loads up his ox-cart. After he sells everything, buys a few things, and walks the long way back home, we are briefly shown how all of his products came about in the first place, as the next cycle starts -- who made what, and when they did it. I suppose this goes to show that there really isn't a "beginning" -- farm life is an endless circle that works in seasons, and while one thing is ending, something else is beginning.
Once I obtained this book as an adult to read it to my kids, I began to wonder whether it would hold their attention. It just seemed so very practical and task-oriented. Not to mention there's a good deal of repetition in the middle when he's doing all the selling.
While it won't garner the excitement and laughter that many books seem to go for these days, and while it doesn't seem to be trying to be poignant, I still think it communicates something important in its way -- both as a reminder of the American past and a celebration (though subdued) of hard work, self-sufficiency, and family life.
Scrounged From: A present for our kids
Format: Paperback
Author: Donald Hall
Illustrator: Barbara Cooney
Pages: 40
Content Advisory: None
Understanding Coronavirus Spread
A Question and Answer session with Professor Puzzler about the math behind infection spread.
Blogs on This Site

Reviews and book lists - books we love!

The site administrator fields questions from visitors.

Like us on Facebook to get updates about
new resources