scrounge: /skrounj/ informal verb: to actively seek [books] from any available source
Category results for 'birds'.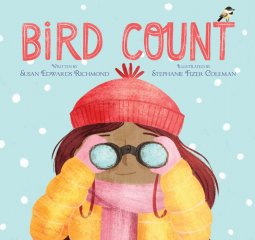 A while back I reviewed Counting Birds (review here), which tells the story of how the long-running citizen science project called the "Christmas bird count" developed, and why it's become so important for scientists and for the birds they are aiming to protect.
Bird Count is also about the bird count, but it approaches it from a more personal angle. It tells the fictionalized story of a girl named Ava and her mom as they participate in the bird count, spending an entire wintery day watching, listening, and collecting data. 
We get to see some of the methodology of counting birds at work here -- for example, a bird can only be counted if two or more people in the group see it. The route the group takes is also identified in advance so they can cover a large area. On each page, we see the tally of different types of birds as it's added to.
The "day in the life" aspect of this book helped to make the bird count come alive, and it inspired me to do some reading on The Audubon Society's website to see what kinds of counting groups are available in my area. Maybe someday we'll make this event part of our winter science education!
(Thanks to NetGalley for the review copy.)
Scrounged From: NetGalley
Format: Kindle
Author: Susan Edwards Richmond
Illustrator: Stephanie Fizer Coleman
Pages: 32
Content Advisory: None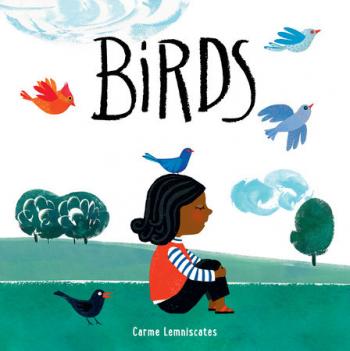 I love the beautiful, cool-toned artwork in this book -- the mixed-media pictures, the blues and greens and collections of complementary colors decorating plumage -- Birds is lovely.
The beginning part of the book contrasts different kinds of birds -- some migrate, others stay home; some are large, others are small, etc. The second half is a simple celebration of the joy of listening to bird songs and watching them fly. 
This book isn't very wordy and doesn't try to be all "educational" about it -- no actual names of birds are mentioned. There's a place for books like that, but I also appreciate the linking of birds with the imagination, and the affirmation that birds bring something important and intangible to our lives.
(In compliance with FTC guidelines, I disclose that I received this book for free through LibraryThing Early Reviewers. I was not required to write a positive review.)
Scrounged From: LibraryThing giveaway
Format: Hardcover
Author/Illustrator: Carme Lemniscates
Pages: 40
Content Advisory: None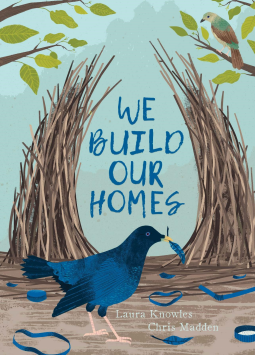 We Build Our Homes is such a cute, readable nonfiction book, telling the stories of animals who are known for building homes -- especially unique ones. Each species of animal has a beautifully illustrated two-page spread to tell its story from a first person perspective (as the "we" in the title implies), which I think makes the text more story-like for young children.
We learn about birds, insects, mammals, and more animals that build their houses out of many different materials and in many different settings. One of the most interesting to me were the edible-nest swiftlets, birds who build their nests in caves -- and their nests are made out of their own saliva!
The text here manages to be both informative and readable, while remaining at a level that preschoolers can still appreciate. For older children, the book is not too wordy to read in one sitting. 
(Thanks to NetGalley for the review copy.)
Scrounged From: NetGalley
Format: Kindle
Author: Laura Knowles
Illustrator: Chris Madden
Pages: 64
Content Advisory: None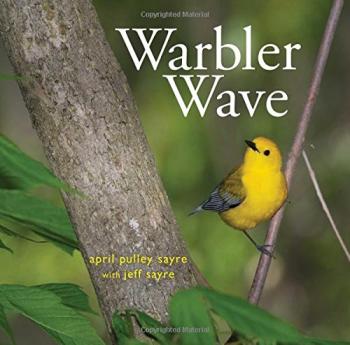 Warbler Wave is a book featuring beautiful, detailed photography of bright yellow warblers, with poetic and gently rhyming text that describes their actions and migration events. 
While I don't see many warblers where I am in Maine, I remember seeing them and reading about them while living in Maryland, and thought they were such cheery-looking birds. This was a nice way to learn more about them as an adult -- the book's text is fairly spare, but there are a couple more pages of information at the end, for adults and older children. 
I think my favorite photos are the ones of warblers caught right in the act of catching flying insects to eat -- so neat! I enjoy any book that not only invites us to marvel at the wonders of creation, but provides quality, engaging photos to draw us in and appeal to our inner "birder."
Scrounged From: Our local library
Format: Hardcover
Author: April Pulley Sayre and Jeff Sayre
Pages: 32
Content Advisory: None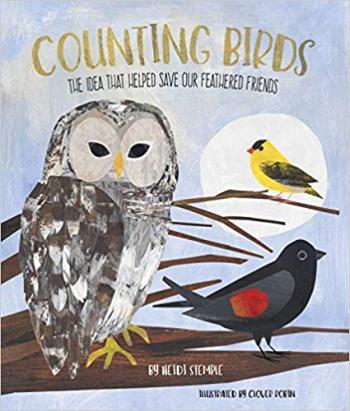 Counting Birds starts off as the story of a man named Frank Chapman, who decided to do something to combat what was a Christmas tradition in some places 100+ years ago: shooting birds for fun. 
His idea of an annual "bird count" has since developed into a massive citizen science project organized by the Audubon Society. This book celebrates the joy of discovery and conservation of our feathered friends, in a way that reminds me of The Sky Painter, which features another bird lover who also decided to find a way to depict birds without shooting them (see my review here).
That spirit of conservation is present here, displaying an attitude of enjoyment and appreciation of wild birds, and portraying the thrill of the "hunt" as well as the benefit this participation can be to science.
The last few pages give some more information on how the bird count works, and how the average citizen can participate. This is definitely something I'd like to be involved in someday, and would make a great homeschool project.
Oh, and, plot twist! When I read the page about calling owls, I couldn't help but think of Jane Yolen's Owl Moon. Turns out the author of this book is actually her daughter, who is the girl who goes owl calling with her father in Owl Moon. Nifty!
(Thanks to NetGalley for the review copy.)
Scrounged From: NetGalley
Format: Kindle
Author: Heidi E. Y. Stemple
Illustrator: Clover Robin
Pages: 32
Content Advisory: One scene shows a bunch of dead birds lying on the ground, but it's from a distance and not graphic.
Older posts
Blogs on This Site

Reviews and book lists - books we love!

The site administrator fields questions from visitors.

Like us on Facebook to get updates about
new resources