scrounge: /skrounj/ informal verb: to actively seek [books] from any available source
Category results for 'weather'.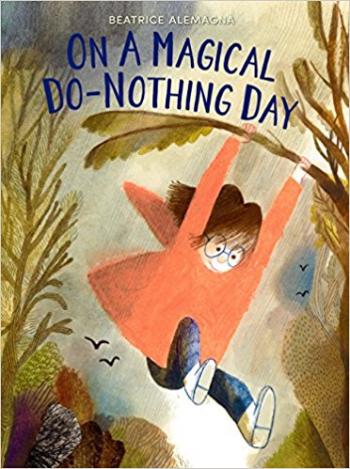 On a Magical Do-Nothing Day is nostalgic for me, having spent a few years of my childhood in Scotland by the North Sea, where it rained frequently. If I'd saved all of my outdoor play for a sunny day, I would have been inside most of the time, and with four homeschooled children (at the time), I'm sure my mom needed a break once in a while. Consequently, my siblings and I spent many hours in our large backyard in our rain jackets, making "soup" from puddles, bouncing on the moss, watching slugs, climbing trees, and more. 
In this story, a child is reminded of the beauty of the natural world, after losing their video game in a stream. Perhaps the "lesson" is obvious, but the text is sweet and the illustrations are so beautiful with the earth tones contrasted against the child's bright orange raincoat. Also, the text manages to be evocative of ideas such as stillness, silence, solitude, pondering, observation, exploration, and even the way that these things can help us to look at familiar places and family members with new eyes.
I hope children will enjoy this book, and that it won't just be one of those stories that adults want children to like.
Scrounged From: Our local library
Format: Hardcover
Author/Illustrator: Beatrice Alemagna
Pages: 48
Content Advisory: None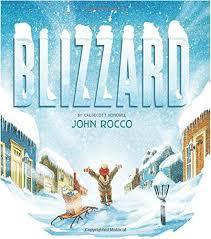 Anyone who's lived in New England for more than a few years will be able to tell you about "that" storm. It may not be the same one for everyone, depending on which state or region they're in and how long they've lived there, but of all our storm stories, we'll all have one that stands out from the rest. Mine is The Ice Storm of '98, when we lost power for a week and had to go live with my grandparents because they had a woodstove. 
For John Rocco, who grew up in Rhode Island, "that" storm was "the infamous blizzard of '78" which dropped forty inches of snow on parts of New England, complete with wind speeds of fifty miles per hour. 
Blizzard focuses on his experience as a young boy during this storm that left his family snowbound for a week before plows could get to them. We can sense his childlike excitement and curiosity at this new phenomenon, as he attempts to sled in snow nearly over his head, and later sits by the fire reading "Arctic Survival."
When the family begins to get stir crazy, and worse, runs out of milk to make hot cocoa with, young John comes to the rescue with a pair of tennis rackets for snow shoes to bravely traverse the way to the store. 
This is a book that New-England-raised children can certainly appreciate, and highlights that sense of ingenuity that many of us in the "frozen north" have had to tap into as a matter of survival!
Scrounged From: Our local library
Format: Hardcover
Author/illustrator: John Rocco
Pages: 40
Content Advisory: None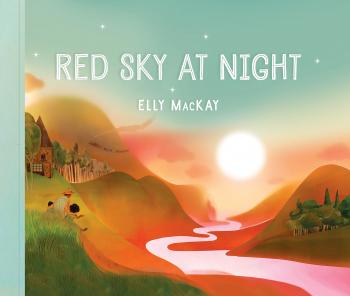 I was immediately attracted to the beautiful cover art on Red Sky at Night. The colors are so soft, complement each other well, and seem filled with light. The human characters in the illustrations appear to be paper cut-outs, so I took a look at author/artist Elly MacKay's website to see what she shares about her artistic process. There she provides some examples of the "layers" that she builds in a theater setting to create her images -- so cool!
The text of this book is comprised of "weather sayings," some of which we have probably all heard before (such as the title). The illustrations serve as the primary narrative, and depict a grandfather taking his grandchildren on a fishing trip. Since so many weather sayings revolve around the sea, this is a fitting framework for the text, and I really love the accompanying images, especially the one with the whale!
To be honest, I was a bit skeptical of many of these sayings until I reached the end of the book and found an explanation for the scientific principles behind each one. Of course, none of them are foolproof and some may be questionable, but when you consider that these were written by people, such as farmers and fishermen, whose lives revolved so closely around the weather, it makes a lot more sense. 
In short, I really enjoyed this book, and the beautiful illustrations have inspired me to check out more work by Elly MacKay.
(Thanks to NetGalley for the advanced review copy.)
Scrounged From: NetGalley
Format: Kindle
Author/illustrator: Elly MacKay
Pages: 40
Content Advisory: None

Blogs on This Site

Reviews and book lists - books we love!

The site administrator fields questions from visitors.

Like us on Facebook to get updates about
new resources