scrounge: /skrounj/ informal verb: to actively seek [books] from any available source
Category results for 'best-of-2018'.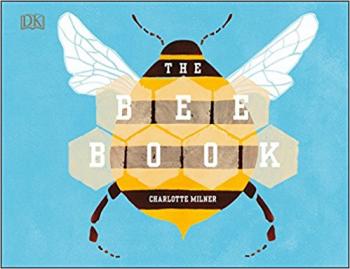 The Bee Book is a visually appealing introduction to bees, focusing on the honey bee, and emphasizing how important they are to the world.
I love the full-page illustrations with the lovely contrast of blue and yellow, and the way the information is spread out -- the book covers a lot of bee-ish topics without becoming too verbose about any of them. (And for what it's worth, I think they hit the sweet spot as far as bee-related puns go -- a couple at appropriate times without overdoing it.)
We learn about the life cycle of the honeybee as well as the different roles of each type within the hive. I had no idea that worker bees' lives and tasks were so well organized based on age. At the end of the book are some ideas for ways to help bee populations such as making a "bee hotel" and planting more flowers. 
(Thanks to NetGalley for the advanced review copy.)
Scrounged From: NetGalley (and later Amazon)
Format: Kindle
Author/illustrator: Charlotte Milner
Pages: 48
Content Advisory: None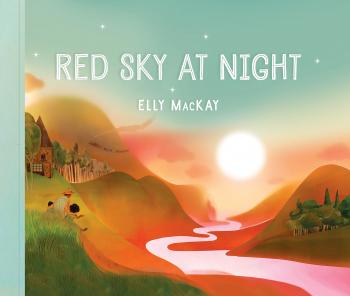 I was immediately attracted to the beautiful cover art on Red Sky at Night. The colors are so soft, complement each other well, and seem filled with light. The human characters in the illustrations appear to be paper cut-outs, so I took a look at author/artist Elly MacKay's website to see what she shares about her artistic process. There she provides some examples of the "layers" that she builds in a theater setting to create her images -- so cool!
The text of this book is comprised of "weather sayings," some of which we have probably all heard before (such as the title). The illustrations serve as the primary narrative, and depict a grandfather taking his grandchildren on a fishing trip. Since so many weather sayings revolve around the sea, this is a fitting framework for the text, and I really love the accompanying images, especially the one with the whale!
To be honest, I was a bit skeptical of many of these sayings until I reached the end of the book and found an explanation for the scientific principles behind each one. Of course, none of them are foolproof and some may be questionable, but when you consider that these were written by people, such as farmers and fishermen, whose lives revolved so closely around the weather, it makes a lot more sense. 
In short, I really enjoyed this book, and the beautiful illustrations have inspired me to check out more work by Elly MacKay.
(Thanks to NetGalley for the advanced review copy.)
Scrounged From: NetGalley
Format: Kindle
Author/illustrator: Elly MacKay
Pages: 40
Content Advisory: None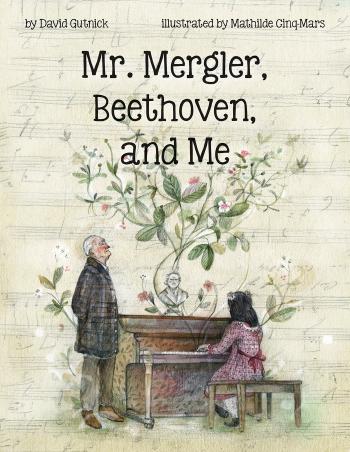 Mr. Mergler, Beethoven, and Me is a sweet story about a girl and her father who have a chance meeting with Daniel Mergler, a respected piano teacher, near the end of his life. It's written in first person from the perspective of the girl (who is not named in the book), and she describes how she came to have piano lessons from Mr. Mergler. 
Mr. Mergler has a bust of Beethoven on his piano, which has been there for decades. The girl thinks he looks angry, but over time, as she learns more and more about the technique and magic of music, she sees him in a more friendly light. 
The illustrations are lovely, using gentle, subdued tones, and portraying the teaching of music as growth of plants.
After reading this story, I immediately wondered whether or not it was true. The end notes give a brief biography of Beethoven and Daniel Mergler, but told nothing about the girl or her parents -- but the story seems oddly specific to be fictional. This led me to Mr. Mergler's Gift, a short documentary film made in Canada, which identifies the girl in the story as Xin Ben, the daughter of Chinese immigrants. This book appears to be based on the documentary, and since it's a documentary, that answers my question as to whether this book is based on a true story.
I really enjoyed this wonderful picture of the power of music, and the tribute to the love and guidance that music teachers show to their students.
(Thanks to NetGalley for the advanced review copy.)
Scrounged From: NetGalley
Format: Kindle
Author: David Gutnick
Illustrator: Mathilde Cinq-Mars
Pages: 32
Content Advisory: Mr. Mergler has passed away by the end of the story, though the details of death are not given.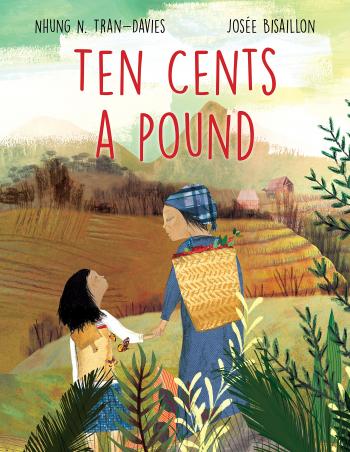 Ten Cents a Pound is a short, poetic, back-and-forth conversation between a mother and daughter, portraying their bond and love for each other. The mother gently encourages her daughter to dream, to learn, and to leave the village to attend school, while the daughter highlights the hard work her mother does and thus her reluctance to leave her.
The book simultaneously draws attention to the difficulties of living with low wages, while optimistically looking forward to the opportunities and possibilities of the future due to education.
The lovely illustrations are both realistic and wistful, and while this story may require some additional explanations for young children, it paints a beautiful picture of determination and potential. 
(Thanks to NetGalley for the advanced review copy.)
Scrounged From: NetGalley
Format: Kindle
Author: Nhung N. Tran-Davies
Illustrator: Josée Bisaillon
Pages: 24
Content Advisory: None

Blogs on This Site

Reviews and book lists - books we love!

The site administrator fields questions from visitors.

Like us on Facebook to get updates about
new resources