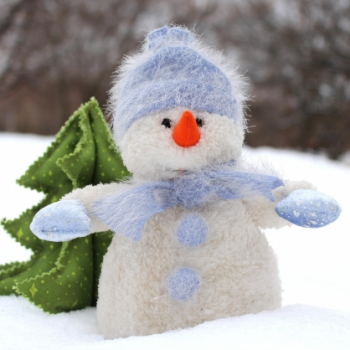 There's nothing like the fresh white landscape of a snowstorm (plus the first snow day for many students and teachers) to put you in the Christmas spirit! When you come inside from making snowmen and snow angels (or just shoveling snow!) and you're sipping hot chocolate, while looking out the window at the fresh falling snow, here are a few things on the site that may be in keeping with your mood:
Christmas Tree Light Calculator
This was built just for fun, at the request of one of Professor Puzzler's Pre-Calculus students. But even though it was just for fun, you might find it useful in determining how many feet of light strands to buy for your tree!
Make Your Own Snowflakes!
That's right - these snowflakes don't have to be shoveled, no matter how many of them you make. Choose from a variety of regular polygons to base your design on, and pick from a full spectrum of colors and shades to create your masterpiece!
'Twas the Night Before Christmas Jumbles and Searches
Choose from a list of vocabulary words like courser, thistle, miniature, and obstacle - all vocabulary words you'll find in Clement Clarke Moore's Christmas masterpiece -  and create printable worksheets of jumbled words, word searches, and cross search puzzles.
Christmas Songs Reference
This brief reference unit contains two of the songs of Christmas - the song of Zacharias, and Mary's Magnificat - from the Bible account of Luke's Gospel. The related questions are designed to encourage reading for comprehension.
Nativity Narrative Quiz
For people who think they've got the Christmas story down pat, this quiz puts a different spin on it - the quiz gives a variety of statements about the Christmas story and asks you to decide whether the statement is "traditional" or "biblical"
Much Much More!
This is far from an exhaustive list of Christmas resources on The Problem Site. To make it easier for you to find them, there's a new "Seasonal Resources" section that provides links to more features. Not only can you get Christmas themed resources, but this page provides resources for a variety of holidays and seasons.
Christmas is a Letdown (On another site)
TheProblemSite's administrator also serves as the main writer for a site called "Biblical Illuminations" which provides devotional and spiritual messages. "Christmas is a letdown" is this year's Christmas message on the site.
---
The Physics Study Guide!
The Physics Study Guide is about 1/2 complete! We have units one through six, plus the appendices online. You can find them here:
Mr. Physics' High School Physics Study Guide
In addition to a large number of sample problems, in which Mr. Physics talks you through how to solve problems in kinematics, forces, momentum, simple harmonic motion, and more, there are over 200 practice problems for you to try!
More units will be appearing in the spring semester, after Christmas Break.
Happy Holidays, everyone!
Blogs on This Site

Reviews and book lists - books we love!

The site administrator fields questions from visitors.

Like us on Facebook to get updates about
new resources