scrounge: /skrounj/ informal verb: to actively seek [books] from any available source
Category results for 'Earth-Day'.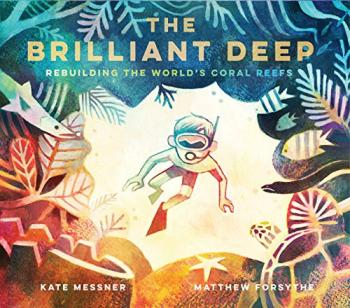 The Brilliant Deep is partially about Ken Nedimyer, the founder of the Coral Restoration Foundation. It tells about his passion for the sea, and the process he used to transplant healthy coral to dying and shrinking reefs in order to help them thrive again.
(When I read this it instantly reminded me of an episode of Reading Rainbow, in which I clearly remember watching scuba divers gluing coral to rocks. I looked it up and that episode featured a different "coral doctor" than this book, but it appears that the idea is the same.)
But this book is also about how one person can make a difference, and how growth and multiplication of a good thing can help turn the tide (no pun intended) of something bad. The stunning artwork blends so many colors together in a way that conjures up what it must feel like to be surrounded by the dazzling and diverse shapes and colors of living coral. Just as the colors meld together to form something amazing, this story can remind us how interconnected all of life is. 
Scrounged From: Our local library
Format: Hardcover
Author: Kate Messner
Illustrator: Matthew Forsythe
Pages: 48
Content Advisory: None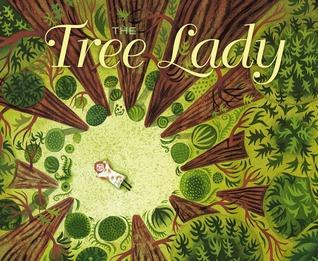 Continuing with our "tree theme" of late, as well as books that highlight people who made a difference in their communities, The Tree Lady is another inspiring story of a woman who brought trees to the San Diego area more than a hundred years ago. Not only did Kate Sessions become the first woman to obtain a science degree from the University of California, but she then made "tree hunting" and planting her career. She sought out the varieties of trees that would be just right for the sunny, dry climate of Southern California, and went to work making the place beautiful.
This picture book tells her story from her tree-loving childhood to her education and finally her determination to try and find a way where others may not have tried. The affirming repetition of "But Kate did" throughout the story helps to emphasize this sense of perseverence, and the story concludes with some information about the way her legacy still impacts the area she called home.
Scrounged From: Our local library
Format: Hardcover
Author: H. Joseph Hopkins
Illustrator: Jill McElmurry
Pages: 32
Content Advisory: None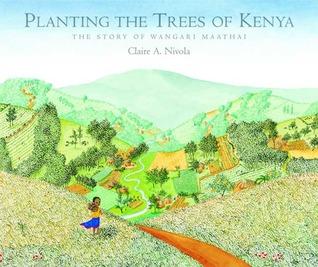 Though I just featured another picture book about Wangari Maathai (Wangari's Trees of Peace) I found Planting the Trees of Kenya to be just as wonderful at telling Wangari's story, and I also thought it was more detailed not only in the illustrations, but also in its descriptions of the before-and-after pictures of the Kenyan landscape, as well as the practical, daily benefits that a healthy amount of trees can bring to the average worker. 
So not only does this story briefly cover Wangari's early life and education, but it also paints a vivid picture of her vision for re-planting the destroyed trees of Kenya, empowering the women (and men, eventually) around her to take personal responsibility for their environment, and the difference that trees can make to an environment.
This is a great story of a remarkable woman, but also a book that can help to inspire us all to take a greater sense of responsibility for the care of the land that we all live on.
Scrounged From: Our local library
Format: Hardcover
Author/Illustrator: Claire A. Nivola
Pages: 32
Content Advisory: None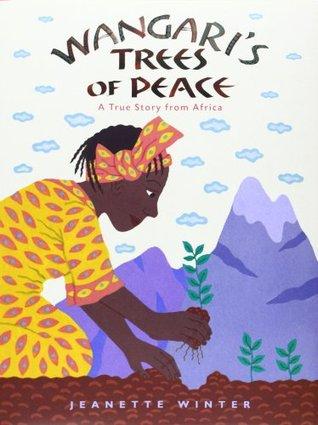 Wangari's Trees of Peace is the inspiring true story of a woman who faced the destruction of her country's natural environment and decided to do something about it herself, and in the process empowered many of her fellow Kenyans to care for their own land.
Wangari faced many obstacles, and her work was slow going at times, but after decades of work, the movement she started has re-planted millions of trees and helped to enrich the environment and people's lives. Her story is definitely a valuable one to introduce children to -- one caveat is that one of the obstacles depicted in this particular book is Wangari being assaulted by a law enforcement officer, which parents/teachers might like to be aware of before reading. Otherwise, the text and illustrations are quite accessible to young children.
Wangari was awarded the Nobel Peace Prize in 2004 for her work in sustainable development, human rights, and peace.
Scrounged From: Our local library
Format: Hardcover
Author/Illustrator: Jeanette Winter
Pages: 32
Content Advisory: One scene shows Wangari being hit by a law enforcement officer, which may be disturbing for some children.

Blogs on This Site

Reviews and book lists - books we love!

The site administrator fields questions from visitors.

Like us on Facebook to get updates about
new resources