scrounge: /skrounj/ informal verb: to actively seek [books] from any available source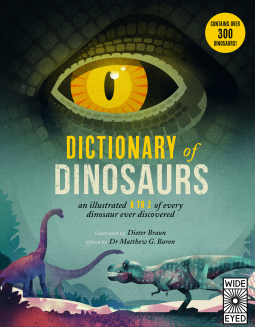 Dictionary of Dinosaurs is a really neat collection that lists all the dinosaurs discovered up to this point. Length, diet, and when/where the animal lived are provided for each dinosaur, as well as a name pronounciation guide (very helpful!) and the meaning of the name, some of which are very interesting. I learned that there is a dinosaur whose name was inspired by Lewis Carroll's Jabberwocky poem (borogovia)!
On each page, a dinosaur or two (but not all of them) are highlighted with a color picture, a blurb of information, and a silhouetted picture comparing the dinosaur's size to that of a human. Most of the more well-known dinosaurs (tyrannosaurus, stegosaurus) are highlighted this way. Since marine reptiles and flying reptiles are no longer considered "dinosaurs" (something that apparently happened between when I was a kid and when I had kids old enough to like dinosaurs), they are unfortunately not included in this book.
In the beginning of the book is some general information about time periods, fossils, etc., but I found this statement interesting: 
"New information about dinosaurs is being discovered all the time. Dinosaurs often change name, or their dates change once more information is found out about them. This means it's a very exciting field to get into and learn about. You could even discover or name the next dinosaur one day!"
In other places, the book notes that certain dinosaurs may not actually be separate species, but scientists made the best guess they could based on the evidence. I really like the way this portrays science as an ongoing effort rather than a static collection of information. 
As is obvious from the title, this isn't likely the kind of book you'd want to sit down and read all in one sitting, but it's a great reference for dinosaur-loving kids, full of colorful pictures and current information -- for now!
(Thanks to NetGalley for the review copy.)
Scrounged From: NetGalley
Format: Kindle
Author: Matthew G. Baron
Illustrator: Dieter Braun
Pages: 184
Content Advisory: None

Blogs on This Site

Reviews and book lists - books we love!

The site administrator fields questions from visitors.

Like us on Facebook to get updates about
new resources