scrounge: /skrounj/ informal verb: to actively seek [books] from any available source
Category results for 'New-England'.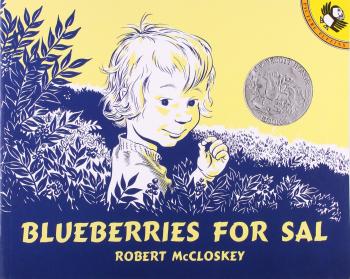 This classic has been on my bookshelves for as long as I can remember, and is not only a wonderful children's story but a celebration of one aspect of the wild beauty of my home state of Maine. While Blueberries for Sal never comes out and gives a location (aside from "Blueberry Hill"), it's not difficult to imagine that this story is based in Maine (like several of McCloskey's others), given that Maine is pretty much the world capital for wild blueberries (one of the few fruit crops that's native to North America).
When I came back to this book as an adult, I could remember the gist of the narrative -- how Sal and a baby bear get mixed up, with each following the other's mother (as both mothers are quite focused on their task of finding blueberries for the winter). But what I find most endearing about this book is the way McCloskey's illustrations so perfectly capture the mannerisms of a toddler. Sal is capable of great focus on picking, but also an inability to keep more than three blueberries in her pail without eating them. Whether it's the facial expressions or the overall strap that's perpetually falling off her shoulder, Sal is the epitome of a cute and curious toddler who is satisfied by simple things.
I used this book with my son in pre-k for "B week." After reading it, we ate blueberries and "brown bears" (chocolate teddy grahams) for snack. 
Scrounged From: A gift for our child
Format: Hardcover
Author/Illustrator: Robert McCloskey
Pages: 56
Content Advisory: None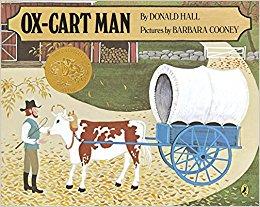 Ox-Cart Man is a book I grew up with, as did many others in my generation. Not only did it win the Caldecott Medal in 1980, but it was also featured on Reading Rainbow, a PBS show that helped so many of us to get or stay excited about reading. 
It's the story of a year in the life of a farmer in the early 1800s, and describes all the things that he and his family grow, build, weave, and otherwise make, which the ox-cart man then takes to market to sell, one by one. 
But rather than begin at the "beginning" of a year, the story drops us into the almost-end of the cycle, into the cool of an autumn countryside as the man loads up his ox-cart. After he sells everything, buys a few things, and walks the long way back home, we are briefly shown how all of his products came about in the first place, as the next cycle starts -- who made what, and when they did it. I suppose this goes to show that there really isn't a "beginning" -- farm life is an endless circle that works in seasons, and while one thing is ending, something else is beginning.
Once I obtained this book as an adult to read it to my kids, I began to wonder whether it would hold their attention. It just seemed so very practical and task-oriented. Not to mention there's a good deal of repetition in the middle when he's doing all the selling.
While it won't garner the excitement and laughter that many books seem to go for these days, and while it doesn't seem to be trying to be poignant, I still think it communicates something important in its way -- both as a reminder of the American past and a celebration (though subdued) of hard work, self-sufficiency, and family life.
Scrounged From: A present for our kids
Format: Paperback
Author: Donald Hall
Illustrator: Barbara Cooney
Pages: 40
Content Advisory: None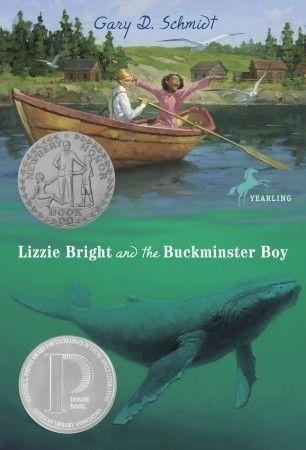 Book Scrounger's note: The following is a guest review by Doug, a.k.a. Professor Puzzler.
So many books I read end up getting lost in the recesses of my mind, and if you asked me sixth months later what I had read, I wouldn't be able to tell you much about the book. Lizzie Bright and the Buckminster Boy will, I think, stay with me for a very long time. This is the story of a friendship between a preacher's son and a pauper black girl from a small island off the coast of Maine.
My wife found the book at Goodwill, and bought it because it takes place in our home state, and because it is a Newbery Honor book. 
I started reading it and was hooked from the very first page. The main characters (Lizzie Bright and Hunter Buckminster III) are such believable characters, and I had a sense -- which I seldom get from fictional books -- that these were real, honest-to-goodness people. My perceptions were shaped, perhaps, by the fact that I'm from Maine, and know the places described in the book.
But it wasn't until I was several chapters in that I suddenly realized that this book was only partly fictional. It is the story of one of Maine's most shameful historic events. It is the story of Malaga Island, and the state's decision to remove the island's slave-descended and mixed-race residents and place them in a home for the feeble-minded, where they lived out the remainder of their tragic lives.
Here are some of the things that I loved about this book:
The descriptions of the Maine coast, community, and church life.
Believable character interactions and ever changing relationships.
In keeping with #2, a recurring theme of forgiveness (not explicitly mentioned, but clearly evident).
Characters who don't always do exactly what you expected them to.
The depictions of human selfishness, along with selflessness and courage.
The sprinkling of humorous moments and funny dialogue in the midst of a difficult story.
When I see "Newbery Honor," I automatically think, "book for kids," but this is a book for older kids. It has also won "young adult" awards. The story, being based around tragic historic events, is very dark at times, and as you can probably deduce from what I've said so far, does not have a happy ending.
But it is a powerful book, and it deserves a place in your reading list. There is much more I could say about the book, but I don't want to spoil too much of it for you, so I'll stop here.
I have a feeling this will be one of those rare books that I'll come back to someday and read for a second -- maybe even a third time.
Scrounged From: Our local Goodwill store
Format: Paperback
Author: Gary D. Schmidt
Pages: 224
Content Advisory: Some violence, and depictions of white supremacist attitudes and actions.

Blogs on This Site

Reviews and book lists - books we love!

The site administrator fields questions from visitors.

Like us on Facebook to get updates about
new resources