scrounge: /skrounj/ informal verb: to actively seek [books] from any available source
Category results for 'plants'.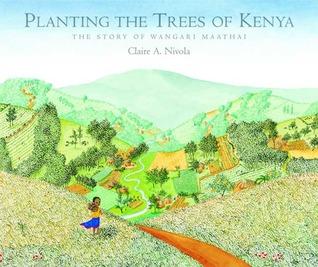 Though I just featured another picture book about Wangari Maathai (Wangari's Trees of Peace) I found Planting the Trees of Kenya to be just as wonderful at telling Wangari's story, and I also thought it was more detailed not only in the illustrations, but also in its descriptions of the before-and-after pictures of the Kenyan landscape, as well as the practical, daily benefits that a healthy amount of trees can bring to the average worker. 
So not only does this story briefly cover Wangari's early life and education, but it also paints a vivid picture of her vision for re-planting the destroyed trees of Kenya, empowering the women (and men, eventually) around her to take personal responsibility for their environment, and the difference that trees can make to an environment.
This is a great story of a remarkable woman, but also a book that can help to inspire us all to take a greater sense of responsibility for the care of the land that we all live on.
Scrounged From: Our local library
Format: Hardcover
Author/Illustrator: Claire A. Nivola
Pages: 32
Content Advisory: None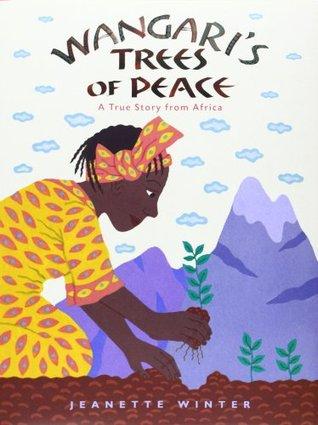 Wangari's Trees of Peace is the inspiring true story of a woman who faced the destruction of her country's natural environment and decided to do something about it herself, and in the process empowered many of her fellow Kenyans to care for their own land.
Wangari faced many obstacles, and her work was slow going at times, but after decades of work, the movement she started has re-planted millions of trees and helped to enrich the environment and people's lives. Her story is definitely a valuable one to introduce children to -- one caveat is that one of the obstacles depicted in this particular book is Wangari being assaulted by a law enforcement officer, which parents/teachers might like to be aware of before reading. Otherwise, the text and illustrations are quite accessible to young children.
Wangari was awarded the Nobel Peace Prize in 2004 for her work in sustainable development, human rights, and peace.
Scrounged From: Our local library
Format: Hardcover
Author/Illustrator: Jeanette Winter
Pages: 32
Content Advisory: One scene shows Wangari being hit by a law enforcement officer, which may be disturbing for some children.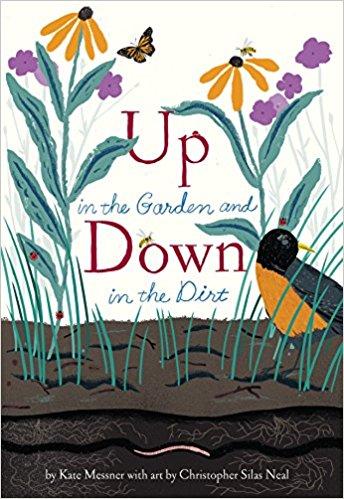 We enjoyed reading another installment from the Messner/Neal duo, after reading Over and Under the Snow (see my review here). Up in the Garden and Down in the Dirt includes beautiful, colorful artwork and tells the story of some of the things that go on in a garden over the course of a year. The text is spare and fairly poetic, and communicates facts about bugs, plants, and the food chain without a lot of technical terms. 
The book follows a girl and her Nana as they haul off dead plants and sow seeds in the spring, watch the vegetables ripen in the summer, and harvest and put the garden "to bed" in the autumn, and soon it rests under a blanket of snow for the winter. We're also introduced to some of the creatures that live in gardens: ladybugs, earth worms, pill bugs, and even garter snakes.
It's a great reminder that there's a lot going on in one little garden, and it's all interconnected -- even down in the dirt where we don't often see it.
Scrounged From: Our local library
Format: Hardcover
Author: Kate Messner
Illustrator: Christopher Silas Neal
Pages: 52
Content Advisory: None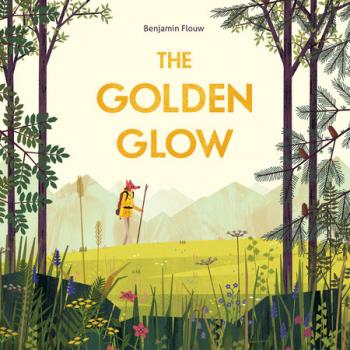 The Golden Glow is a story about a fox who loves botany (originally published in French). One day he goes off in search of "the golden glow" -- a very rare flower, which (he is eventually told) can only be found at the very top of the mountain. 
The story takes its time in reaching this destination (though it's not draggy or overly wordy), including informational pages here and there featuring topics such as items for hiking preparedness, common flowers, trees, mountain elevation zones, etc.
I liked the illustrations, especially the color palette, though the "angular" way that most things are drawn is interesting considering how sleekness and curves seem to be the order of the day.
Ultimately I appreciated the message of the story, which is that nature appreciation doesn't need to mean possessing everything we find, especially items that are rare and beautiful. I also thought this story avoided the common pitfall of presenting important ideas in a didactic way. 
(Thanks to NetGalley for the review copy.)
Scrounged From: NetGalley
Format: Kindle
Author/illustrator: Benjamin Flouw
Pages: 48
Content Advisory: None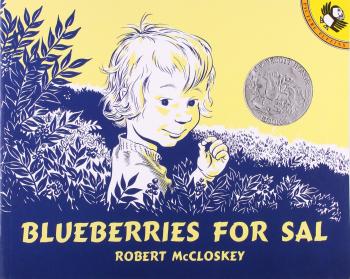 This classic has been on my bookshelves for as long as I can remember, and is not only a wonderful children's story but a celebration of one aspect of the wild beauty of my home state of Maine. While Blueberries for Sal never comes out and gives a location (aside from "Blueberry Hill"), it's not difficult to imagine that this story is based in Maine (like several of McCloskey's others), given that Maine is pretty much the world capital for wild blueberries (one of the few fruit crops that's native to North America).
When I came back to this book as an adult, I could remember the gist of the narrative -- how Sal and a baby bear get mixed up, with each following the other's mother (as both mothers are quite focused on their task of finding blueberries for the winter). But what I find most endearing about this book is the way McCloskey's illustrations so perfectly capture the mannerisms of a toddler. Sal is capable of great focus on picking, but also an inability to keep more than three blueberries in her pail without eating them. Whether it's the facial expressions or the overall strap that's perpetually falling off her shoulder, Sal is the epitome of a cute and curious toddler who is satisfied by simple things.
I used this book with my son in pre-k for "B week." After reading it, we ate blueberries and "brown bears" (chocolate teddy grahams) for snack. 
Scrounged From: A gift for our child
Format: Hardcover
Author/Illustrator: Robert McCloskey
Pages: 56
Content Advisory: None

Blogs on This Site

Reviews and book lists - books we love!

The site administrator fields questions from visitors.

Like us on Facebook to get updates about
new resources