scrounge: /skrounj/ informal verb: to actively seek [books] from any available source
Category results for 'Asia'.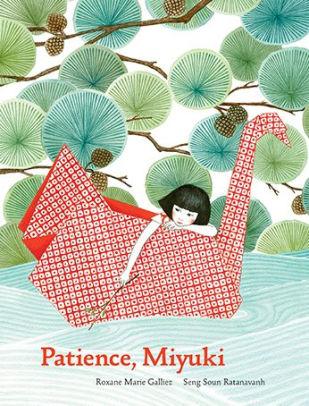 I enjoyed (and reviewed) a previous Miyuki book entitled Time for Bed Miyuki. In that story, Miyuki thinks up a bunch of tasks she must accomplish before she'll be able to go to bed, as we experience the whimsical nature of her world.
Here in Patience, Miyuki, she has the opposite approach -- she wants things to happen more quickly than they are. Miyuki waits for a flower to bloom and spring to come, but it's not coming quickly enough, and she decides she must find the purest water to sprinkle the flower with to help it open up. I can relate -- living in New England it seems like it takes forever for the snow to melt after winter.
Once again the Japanese-inspired illustrations complement the fantastical storyline that involves talking rivers, giant plants and animals (or perhaps the humans are simply miniature?), and other "unexplained" elements that help the story feel both fresh and mythical (and a bit like Alice in Wonderland). 
Though the "lesson" of the story is not belabored, we do see in the end that sometimes it is better to simply watch and wait for life to unfold rather than trying to force it.
(Thanks to NetGalley for the review copy.)
Scrounged From: NetGalley
Format: Kindle
Author: Roxane Marie Galliez
Illustrator: Seng Soun Ratanavanh
Pages: 32
Content Advisory: None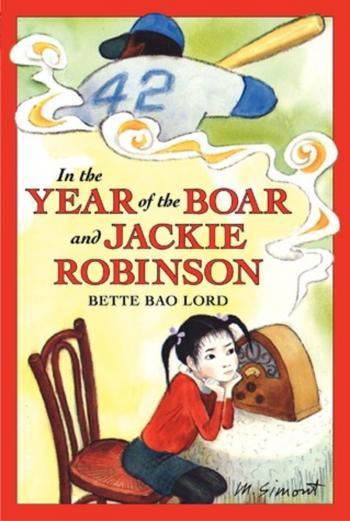 In the Year of the Boar and Jackie Robinson was an enjoyable read about a year in the life of Shirley Temple Wong (her "American name"), a Chinese girl who moves to the United States with her family. The ups and downs of her adjustment to the culture are both sad and humorous at times, and I found her growing baseball enthusiasm to be relatable, as a former big-time fan myself.
The writing covers twelve months in a short book, so some scenes and actions seem like they could have been fleshed out more. I also didn't care for the bullying scene that seemed to imply that accepting violence from a bully is a great way to become their friend. But overall it was a nice look at the time period (1947), the immigrant experience (as well as a few aspects of her Chinese culture), and the inspiration that Jackie Robinson brought to people from so many walks of life.
Format: Paperback
Author: Bette Bao Lord
Pages: 176
Content Advisory: A scene of bullying.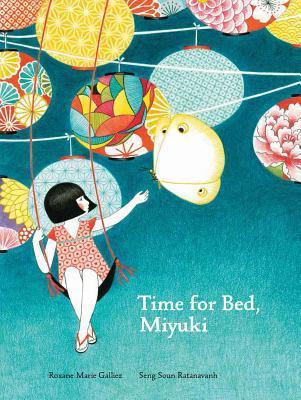 Time for Bed, Miyuki is a charming, fantastical story of a girl who doesn't want to go to bed. While that is not an unusual theme for children's literature, this story stands out by its use of amusing fantasy elements (such as a family of giant snails, and creative use of character sizes), as well as the celebration of certain aspects of Japanese culture.
I love the colors in the illustrations, and the way that fantasy is incorporated into reality -- I think it strikes a good balance. Miyuki's grandfather patiently plays along with each of her requests to complete all the different things she must do before bed, but by the end she finally does lie down and go to sleep, making this a great, whimsical bedtime story.
(Thanks to NetGalley for the review copy.)
Scrounged From: NetGalley
Format: Kindle
Author: Roxane Marie Galliez
Illustrator: Seng Soun Ratanavanh
Pages: 26
Content Advisory: None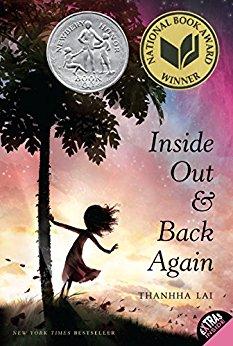 Inside Out and Back Again is probably one of my favorite "verse novels" that I've read so far (not that there have been a lot). I think that style worked well for this story, which seeks to simply convey the most immediate and condensed thoughts and experiences of a girl whose family leaves Vietnam right before the fall of Saigon.

This is a segment of history that can get overlooked, because most of the US history I've learned tends to end the story of Vietnam right after the US pulls out. But for Ha (our protagonist), there are a lot of changes experienced not only in Vietnam, but also on the boat and during her time of adjusting to the US in which her family lives in Alabama.

While this is technically fiction rather than memoir, it draws very heavily on the author's similar experiences, which I think really helps the story to feel real. From details of the cuisine and traditions of Vietnam, to the feelings and reactions to American culture, bullying, and the details and difficulties of learning English, Ha's story is compelling and realistic.
Scrounged From: PaperbackSwap.com
Format: Hardcover
Author: Thanhha Lai
Pages: 277
Content Advisory: Scenes of bullying, brief descriptions of war, and some descriptions of parental loss (nonviolent)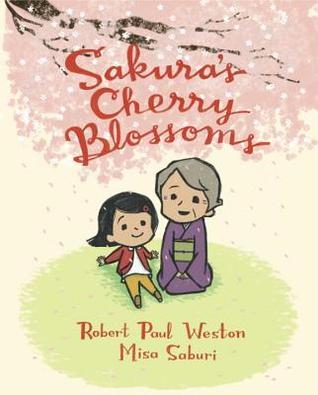 Sakura's Cherry Blossoms is a sweet story about a girl who has to leave her home in Japan, including her grandmother. She and her grandmother used to sit together and eat under a cherry tree as it blossomed, and in America she does not see any cherry trees. Learning English and making friends are difficult things that she has to navigate in this new place.
The story touches on feelings of loss, not just of place, but of people we love (it doesn't specifically mention that Sakura's grandmother dies, but she does go back to visit her one last time to say goodbye, so it is assumed).
In the end, Sakura is sad but makes a friend, and learns to find things in her new home that help her remind her of her grandmother -- especially when spring comes and she realizes that some places in the US have cherry trees too! 
The last page of the book explains that this story is written entirely in the "tanka" style of Japanese poetry, which is similar to haiku but includes two longer lines at the end as well. The phrasing and structure of some of the lines made more sense to me after this. 
(In compliance with FTC guidelines, I disclose that I received this book for free through LibraryThing Early Reviewers. I was not required to write a positive review.)
Scrounged From: A LibraryThing giveaway
Format: Hardcover
Author: Robert Paul Weston
Illustrator: Misa Saburi
Pages: 40
Content Advisory: Sakura misses her grandmother and expresses sadness about leaving her (death is not explicitly mentioned, but illness is).
Older posts
Blogs on This Site

Reviews and book lists - books we love!

The site administrator fields questions from visitors.

Like us on Facebook to get updates about
new resources