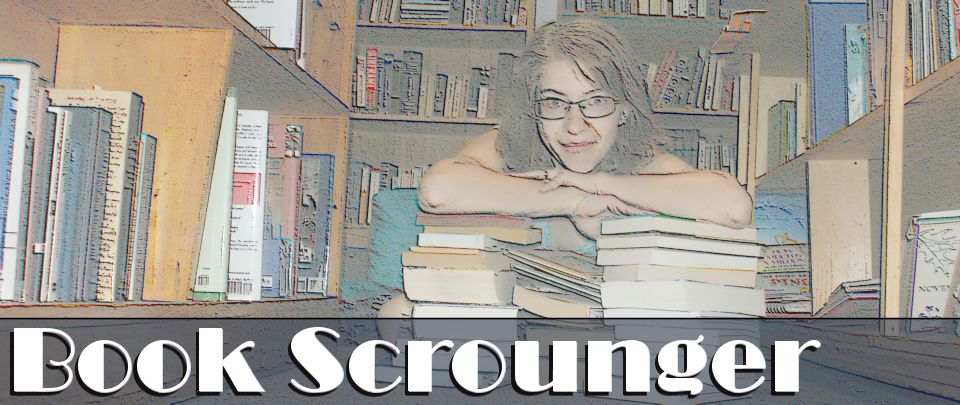 scrounge: /skrounj/ informal verb: to actively seek [books] from any available source
Category results for 'refugees'.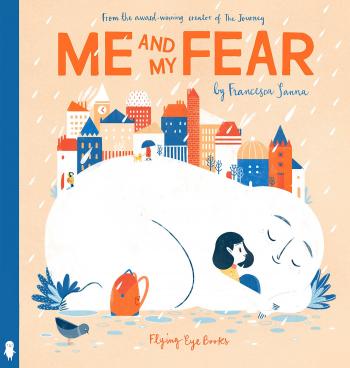 I really loved the illustrations in Francesca Sanna's The Journey (which I included in my list of picture books featuring refugees). So when I saw she had a sequel out, I jumped at the chance to read it. 
In a way, Me and My Fear picks up where the previous book leaves off -- a girl and her mother and siblings have fled a land of war (there are no national identifiers here in order to apply to the broader refugee experience). Here, she is trying to adjust to a new location where she is unfamiliar with the language and customs of the children around her. But she has a little friend who helps to protect her -- Fear. 
I like that fear is occasionally portrayed in a positive light -- able to provide some services that are good, and not as something that has to simply be eradicated from a person's life. But this girl's Fear friend soon grows so large that it keeps her from doing a lot of things. It causes her to feel lonely, anxious, and to engage in negative self-talk.
This is also an interesting picture, as Fear is at once an essential part of the girl, but also something outside of her that she has to contend with when their desires are at odds. I thought the allegory was well done, and portrays this often tempestuous relationship in a believable way. 
In the end, one thing that helps the girl to deal with her fear is to recognize that, contrary to what Fear tells her, she is actually not alone -- the children around her all have Fear friends as well, even if they're often smaller than hers. This contrast between loneliness and solidarity was also helpful in understanding fears. I think this book could be very helpful, especially for anxious kids or adults, and even for those who are not trying to make the shift between cultures.
(Thanks to NetGalley for the review copy.)
Scrounged From: NetGalley
Format: Kindle
Author/Illustrator: Francesca Sanna
Pages: 40
Content Advisory: None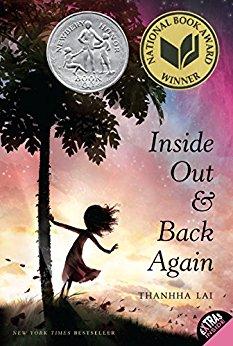 Inside Out and Back Again is probably one of my favorite "verse novels" that I've read so far (not that there have been a lot). I think that style worked well for this story, which seeks to simply convey the most immediate and condensed thoughts and experiences of a girl whose family leaves Vietnam right before the fall of Saigon.

This is a segment of history that can get overlooked, because most of the US history I've learned tends to end the story of Vietnam right after the US pulls out. But for Ha (our protagonist), there are a lot of changes experienced not only in Vietnam, but also on the boat and during her time of adjusting to the US in which her family lives in Alabama.

While this is technically fiction rather than memoir, it draws very heavily on the author's similar experiences, which I think really helps the story to feel real. From details of the cuisine and traditions of Vietnam, to the feelings and reactions to American culture, bullying, and the details and difficulties of learning English, Ha's story is compelling and realistic.
Scrounged From: PaperbackSwap.com
Format: Hardcover
Author: Thanhha Lai
Pages: 277
Content Advisory: Scenes of bullying, brief descriptions of war, and some descriptions of parental loss (nonviolent)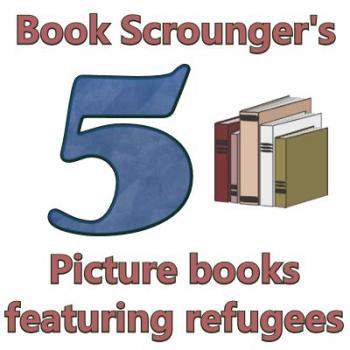 The topic of refugees is more important than ever. On World Refugee Day in 2017, the American Red Cross said that "there are more people displaced from their homes now than at any other point in recorded history." More than half of these many millions of refugees in the world are children. While the idea of millions of children being forced to flee their homes may not feel like a pleasant topic to bring up with children, it is also necessary to learn why and how to stand up for these vulnerable and valuable individuals. Here are some picture books that can help get that conversation started.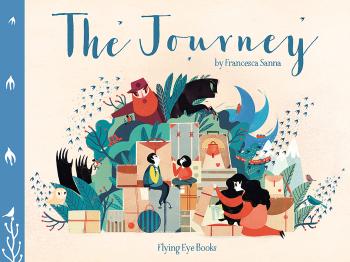 1. The Journey, by Francesca Sanna, was published in 2016. It's a beautifully illustrated story of a family that is forced to flee their home because of war. The story strives to be "neutral" in the sense of not portraying any particular region or ethnicity of the world, so while it is apropos to the current Syrian refugee crisis, it could be applicable to many other situations as well. There is also a fair amount of "allegory" in the story -- the guards are portrayed as giants, and "war" is simply visualized as dark hands reaching out to get the family. This mix of fantasy and reality may help children to visualize topics that would otherwise be too difficult, while also allowing parents/teachers to fill in information if they feel it's appropriate. The story may feel bleak, and while it isn't all tied up in a neat little bow at the end (which makes sense), the refugees look to the sky and see birds migrating, and this helps to give them hope that someday they will be safe and belong somewhere again.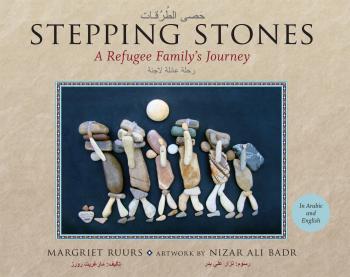 2. Stepping Stones is a uniquely illustrated book -- its images are stone art created by Syrian artist Nizar Ali Badr. While he has remained in his country, he says his heart is with the refugees who have fled. The text includes an Arabic translation of the English, so while the book obviously has ties to Syria and the Middle East, it still tells a story of fear, loss, and hope -- a refugee journey that has also happened in many places outside this context. It is amazing how simple "found" objects from the outdoors can be used to evoke such feeling. Full review here.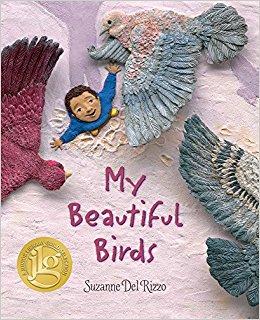 3. Unlike the previous books on this list, My Beautiful Birds specifically takes place in Syria. It tells the story of a boy who had to leave his pet birds behind when his family fled from violence. While his family adjusts to life in the refugee camp they end up in, he struggles and he misses his birds. But at the same time, he finds that birds can also help him to heal. This book is also uniquely illustrated, with images made from clay rather than painted or drawn. Like in The Journey, birds are used to symbolize hope and freedom.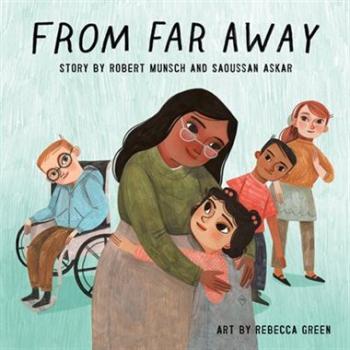 4. From Far Away is a refugee story that goes beyond the story of leaving one home and finding another. It focuses primarily on what happens after -- the period of adjustment during which a young girl named Saoussan has to learn how to live in Canada after fleeing violence in Lebanon. She wants to belong, but everything is so strange and she doesn't understand the context of many things (such as Halloween decorations) or the unspoken social expectations that are unfamiliar to her. This is her story, told in first person (and aided by Robert Munsch), of how she learned to adjust to a new life at school with new teachers and classmates. Full review here.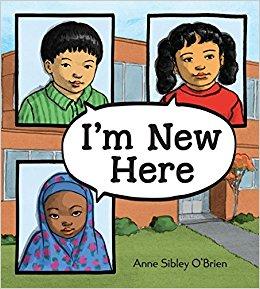 5. Unlike the other books in this list, I'm New Here does not deal specifically with a "refugee story" of fleeing one's home, nor does it actually state that any of the characters introduced here are refugees. But I think it's an important book because it helps to erase the "distance" that often seems to exist between us here in the United States and the refugee stories we read in the news. Regardless of how or why these children arrived in the United States, they are introduced to their new classrooms and set about trying to adjust to a new language and culture in a place where they know no one. While there is little narrative here -- we are mostly given vignettes of each character's experiences interspersed together -- this first-person glimpse into the lives of newly arrived children from Guatemala, Korea, and Somalia can help build empathy as we imagine what it would be like to not understand the words that those around us are saying -- to feel lost, and yet want very much to belong. As time goes on, these struggles give way to confidence for these children.
For more book recommendations relating to refugees, diversity, and other global cultural issues, see the book list (you can browse by theme) at I'm Your Neighbor.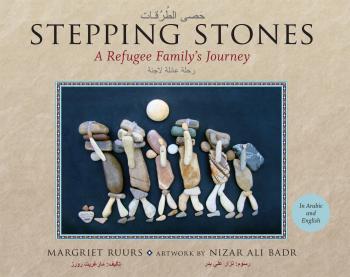 While sad and ultimately triumphant, Stepping Stones is made even more real by its close ties to current events, including the fact that Nizar Ali Badr, whose art has inspired so many, is a native of Syria. Though he has remained in his country, he says his heart is with the refugees who have needed to flee.
The story of how this book came to be is detailed in its introduction, but in short, the author came across a beautiful image of stone art by chance on social media, and went on a quest to track down the artist. She eventually found Nizar Ali Badr and was able to contact him via a friend who could translate their messages. He agreed to collaborate with the author on this book, which has now generated more than $60,000 to aid refugees in Canada, and includes an Arabic translation right below the English text.
I can't say I've ever seen a children's book with art this unique, but at the same time stones are a very tangible medium. Children's imaginations certainly don't need a huge technological production in order to be inspired, and the texture and depth apparent in these images can convey so much to all of us on a basic level -- fear, loss, love, determination.
Many of the images feature people journeying as the text recounts a story of a refugee family fleeing war and death, and seeking peace. The story in this book is detailed enough to portray characters with names and specific memories, but general enough to be applicable to many different times and places, thus showing a universal aspect of refugee journeys -- many human families yearning for peace. 
Scrounged From: Our local library
Format: Hardcover
Author: Margriet Ruurs
Illustrator: Nizar Ali Badr
Pages: 28
Content Advisory: There is mention of war and death (sans details) -- one image depicts people in a boat while others are in the water.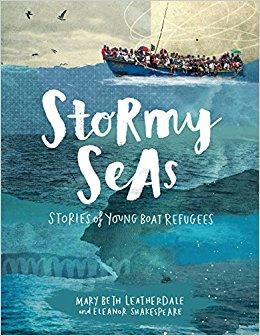 Stormy Seas is a timely look at young refugees of the past, especially considering the current refugee crisis in which more than five million people have fled Syria, half of whom are children. This book helps to show us that refugees are not new at all -- the young people featured in this book fled from Germany, Cuba, Vietnam, Ivory Coast, and Afghanistan, all due to violence, government oppression, or other threat of persecution.
Each of the five sections shares the story of one person's flight, the reasons for leaving, and a first-person account of their time on the boat. We are then given a summary of what has happened to them since these events. More than one of these desperate refugees were turned away from the country they had initially been trying to reach.
This book is well designed, with many photos and quotes set off from the main text, as well as maps and other illustrations to create visual interest. But what interested me the most were the stories of these refugees, who are humanized in these pages rather than appearing as statistics. 
In the introduction, the author tells us:
     "If you're reading this, you--like me--have probably won the lottery. Not the giant-check, instant-millionaire kind of lottery. The other lottery win--the really valuable one. That random, lucky break that means you were born in or immigrated to a relatively peaceful and prosperous place in the world."
It's not always something we're forced to think about, but this book helps young adults appreciate their situation by sharing the stories of others, and hopefully encourages empathy in our response toward those who simply want to survive.
(Thanks to NetGalley for the review copy.)
Scrounged From: NetGalley
Format: Kindle
Author: Mary Beth Leatherdale
Illustrator: Eleanor Shakespeare
Pages: 64
Content Advisory: Some depictions of violence, and of squalid conditions on the boats.
Older posts
Understanding Coronavirus Spread
A Question and Answer session with Professor Puzzler about the math behind infection spread.
Blogs on This Site

Reviews and book lists - books we love!

The site administrator fields questions from visitors.

Like us on Facebook to get updates about
new resources