scrounge: /skrounj/ informal verb: to actively seek [books] from any available source
Category results for 'autumn'.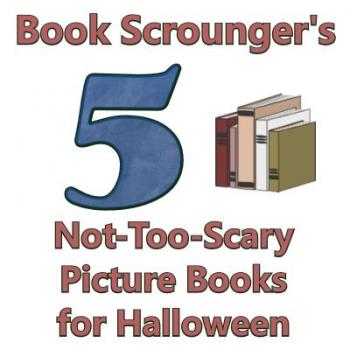 Halloween can be fun, but aspects of it can also be frightening for young children, or for older children who are more sensitive. These are a few books we've come across that cover Halloween without trying to be scary about it.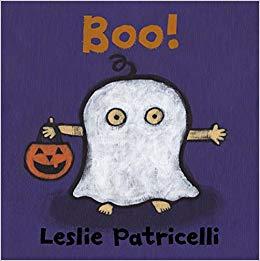 My children have really enjoyed the Leslie Patricelli board books featuring bright paintings of a bald, smiley toddler who introduces toddler-specific topics with few words. In Boo!, he enjoys October experiences such as picking out a pumpkin and deciding how to carve it, and picking out a costume and going trick-or-treating. At first he's a bit nervous about trick-or-treating in the dark, but once the candy comes out, he gets excited and decides he really does love Halloween.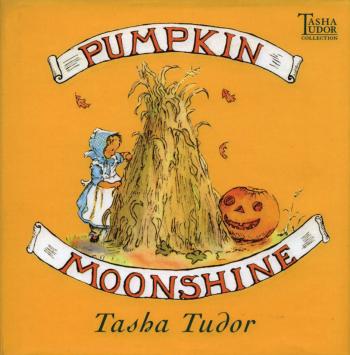 Featuring Tasha Tudor's gentle illustrations, Pumpkin Moonshine involves Sylvie Ann, a little girl in a pumpkin patch who finds the perfect pumpkin, until it decides to roll away down the hill and into the farmyard, causing a bit of mischief. But by the end, Sylvie Ann and her grandfather manage to corrall the pumpkin and carve it into a moonshine (which is apparently another name for a jack-o-lantern).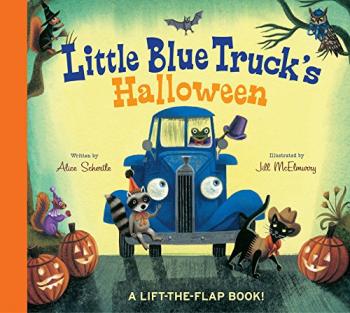 I don't always like books that turn into series, but while the seasonal Little Blue Truck books lack the narrative of the original, they are still fun and feature the same lovely illustrations. In Little Blue Truck's Halloween, we meet a bunch of dressed up farm animals, which young children can "unmask" by opening the sturdy flaps. At the end, even Little Blue Truck takes a turn!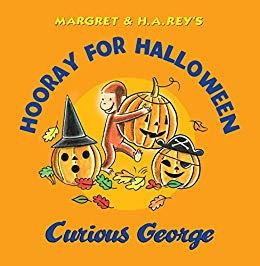 Curious George is a classic, and while this isn't my favorite of the bunch, Hooray for Halloween (previously published as Curious George Goes to a Costume Party) is still a fun story of George and the Man with the Yellow Hat attending a party that they didn't know was a costume party. Even though George ends up accidentally scaring the guests with his last-minute costume, it's not designed to scare any young readers.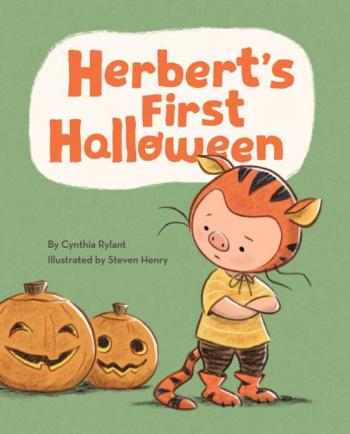 This is a good book for children who may be apprehensive about Halloween, or who simply like to hear about the traditions. Herbert's First Halloween, by Cynthia Rylant, introduces a pig named Herbert and his caring, involved father who gently walks him through the process of choosing a costume, and in the meantime helps to pique his interest by sharing some of his own childhood memories of Halloween.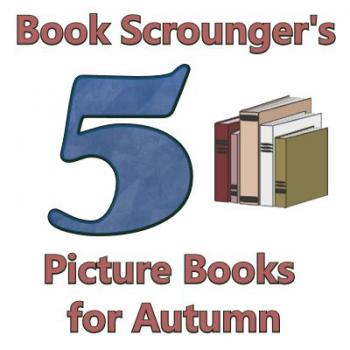 In New England, September and October are especially beautiful seasons -- it gets cooler (and sometimes quite cold) and the leaves turn gorgeous colors before falling. We enjoy apple-picking and harvesting pumpkins before the weather gets really cold. Here are some of our favorite picture books that involve the season of autumn (minus Halloween -- that will be a separate list).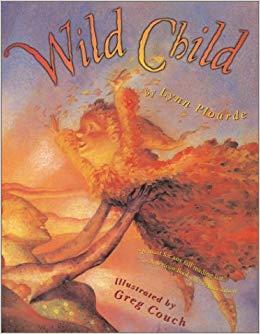 We really enjoy Wild Child, a book that celebrates the colors and features of autumn by personifying the season as a young girl who doesn't want to go to bed, while Mother Earth helps her with her various fall-like requests before she's finally able to slumber. See my full review here.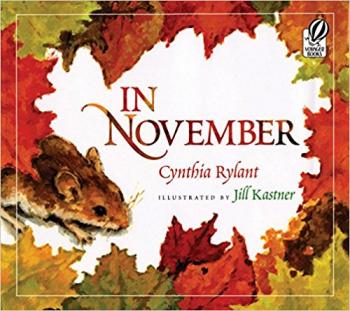 In November, by Cynthia Rylant, highlights changes in the world as November comes along. For me, November tends to be when autumn stops being fun, because the leaves are all brown and dead, and the air starts getting cold in earnest. But this is a nice reminder of all the things that are still going on in nature, and the warmth and joy to be found in human gatherings and food.
I love the vibrant colors and contrast of blue with the warmer autumn tones in In the Middle of Fall, by Kevin Henkes. This book observes and meditates on many of the different changes that take place in nature during autumn, and even encourages us to stop and pay attention to the little things due to the inevitability of time moving onward. Fun and lovely, but can also make you think.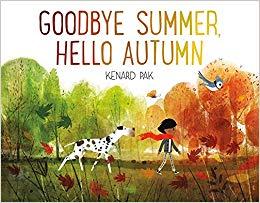 Goodbye Summer, Hello Autumn, by Kenard Pak, follows a girl as she walks through her neighborhood observing the changing of the season from summer to autumn. She asks simple questions of the things she sees, which may get a bit repetitive, but works nicely for young children, and includes beautiful fall colors in its illustrations.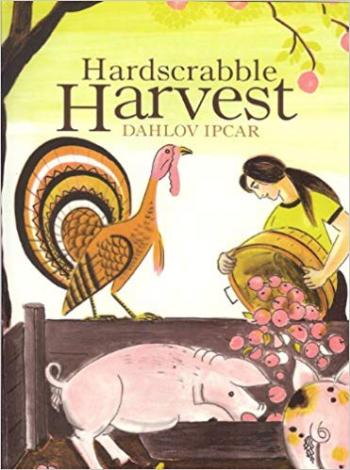 Hardscrabble Harvest, by Dahlov Ipcar, is probably not an easy book to find, but I really enjoy the rhyming text that celebrates the culmination of many months of work on a farm -- harvest. While the colors are very clearly "70s" in nature, they actually work quite well for fall. I appreciate that this book touches on some of the difficulties of farming rather than romanticizing it. Singer Priscilla Herdman even turned the text into a song, which can be viewed as a video here.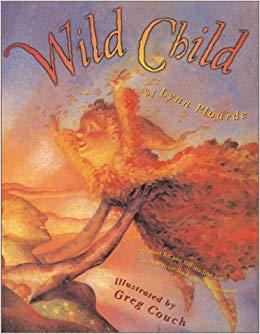 Wild Child is a fun picture book with beautiful illustrations, in which the season of autumn is personified as a young child who isn't quite ready to go to bed, and so gets a snack (apples, pumpkins), PJs (bright-colored leaves), etc. before finally going to bed (and ushering in winter). When it comes to illustrations I apparently tend to favor cooler tones, because there seem to be a lot of blues in my favorite covers/illustrations, but this is one case where the warmth of reds and oranges is very well presented. I also like the rhythm of the text.

This is also a great example of a metaphor for younger children -- my son kept asking about the child and why her mother (Mother Earth) was made of rocks, etc., so it was a nice opportunity to attempt explaining how one thing can be used to represent something else.
Scrounged From: Our local library
Format: Hardcover
Author: Lynn Plourde
Illustrator: Greg Couch
Pages: 32
Content Advisory: None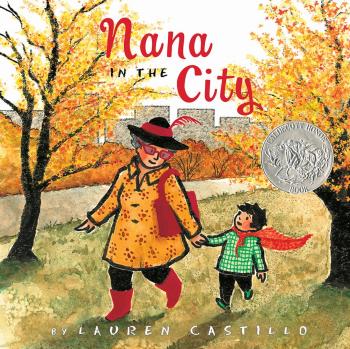 Nana in the City is a sweet picture book with simple words and lovely, colorful illustrations that perfectly portray autumn in the city. I have to admit, I sympathize with the little boy in this story. I think cities are scary too. They are loud, crowded, and I never seem to know where I am. But as his Nana shows him around (after making him a cape), he begins to develop an appreciation for everything a city has to offer.
This is a city picture book that even us country bumpkins can enjoy!
Scrounged From: Our local library
Format: Hardcover
Author/Illustrator: Lauren Castillo
Pages: 40
Content Advisory: None
Blogs on This Site

Reviews and book lists - books we love!

The site administrator fields questions from visitors.

Like us on Facebook to get updates about
new resources