scrounge: /skrounj/ informal verb: to actively seek [books] from any available source
Category results for 'emotions'.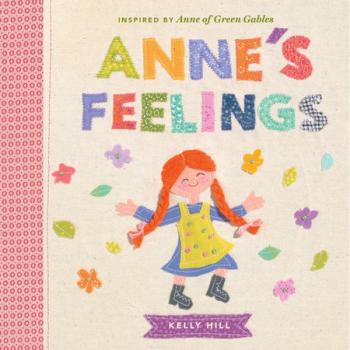 I previously enjoyed (and reviewed) Anne's Colors, another book in this series. Anne's Feelings is just as cute, and also a great way to introduce preschoolers to the character of Anne. 
The illustrations are fabric, and capture Anne's spirit well without being too "cutesy." I love the way the soft tones work together, and how Anne's hair has just enough contrast to stand out a little bit. 
In this book, we explore different emotions that Anne feels, based on scenes from the Anne of Green Gables books. From excitement at the prospect of having a dish of ice cream, to anger at Gilbert Blythe, we experience many different emotions, and see several other familiar characters along with Anne. Of course, since context is very helpful when understanding emotions, this book will probably benefit from some explanations, especially when it comes to feelings such as "the depths of despair"! Still fun, and this book is nicely oversized for ease of reading.
(In compliance with FTC guidelines, I disclose that I received this book for free through LibraryThing Early Reviewers. I was not required to write a positive review.)
Scrounged From: LibraryThing giveaway
Format: Board book
Author/Illustrator: Kelly Hill
Pages: 22
Content Advisory: None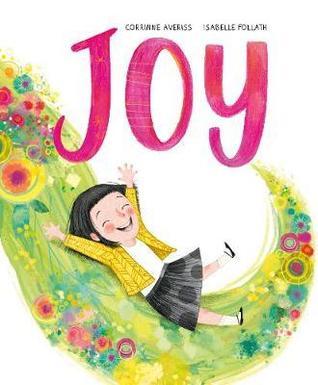 I really enjoyed the soft and colorful illustrations in Joy even before reading the story, but I loved the story itself just as much. 
Fern's Nanna has been acting tired and less energetic lately -- it seems the joy has gone out of her life. Without getting into all the "adulty" explanations about aging and mental health, we simply watch Fern as she tries to physically capture joy in her determined, child-like way. As the reader likely expects, this doesn't work, so Fern tells her Nanna about her troubles. She learns that she can help bring joy to her Nanna by just being herself.
I loved the sweetness and concern that Fern displays for her Nanna, and that in the end, even though she can't fix all of her Nanna's problems (which aren't explained here), she can still help her to experience some joy in the midst of hardship. A very sweet and encouraging book.
(Thanks to NetGalley for the review copy.)
Scrounged From: NetGalley
Format: Kindle
Author: Corrinne Averiss
Illustrator: Isabelle Follath
Pages: 32
Content Advisory: None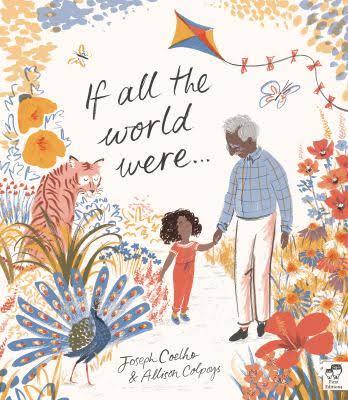 If all the world were springtime
I would replant my grandad's birthdays
So that he would never get old.
If All the World Were... is a beautifully illustrated poem about a girl's relationship with her grandfather, encompassing both her joy as she spends time with him, and her sadness at his eventual passing.
Tracing life through the seasons of one year, the story finds beauty in simplicity, the small joys of simply being together and doing things. Without using a lot of words, it communicates love and memories, each memory represented by a small token that relates to the day they spent together.
This one got me a little teary -- it's very sweet and even in the sadness, celebrates the joy of good memories. The colors in the illustrations are also lovely.
(Thanks to NetGalley for the review copy.)
Scrounged From: NetGalley
Format: Kindle
Author: Joseph Coelho
Illustrator: Allison Colpoys
Pages: 32
Content Advisory: Obviously, this book deals with loss and is sad (but also happy). No specifics the illness/dying process are mentioned.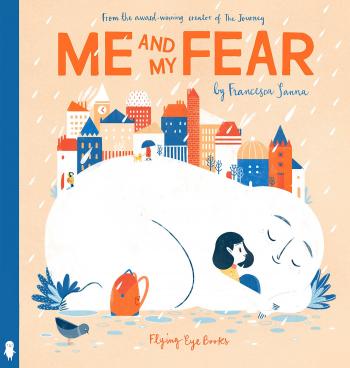 I really loved the illustrations in Francesca Sanna's The Journey (which I included in my list of picture books featuring refugees). So when I saw she had a sequel out, I jumped at the chance to read it. 
In a way, Me and My Fear picks up where the previous book leaves off -- a girl and her mother and siblings have fled a land of war (there are no national identifiers here in order to apply to the broader refugee experience). Here, she is trying to adjust to a new location where she is unfamiliar with the language and customs of the children around her. But she has a little friend who helps to protect her -- Fear. 
I like that fear is occasionally portrayed in a positive light -- able to provide some services that are good, and not as something that has to simply be eradicated from a person's life. But this girl's Fear friend soon grows so large that it keeps her from doing a lot of things. It causes her to feel lonely, anxious, and to engage in negative self-talk.
This is also an interesting picture, as Fear is at once an essential part of the girl, but also something outside of her that she has to contend with when their desires are at odds. I thought the allegory was well done, and portrays this often tempestuous relationship in a believable way. 
In the end, one thing that helps the girl to deal with her fear is to recognize that, contrary to what Fear tells her, she is actually not alone -- the children around her all have Fear friends as well, even if they're often smaller than hers. This contrast between loneliness and solidarity was also helpful in understanding fears. I think this book could be very helpful, especially for anxious kids or adults, and even for those who are not trying to make the shift between cultures.
(Thanks to NetGalley for the review copy.)
Scrounged From: NetGalley
Format: Kindle
Author/Illustrator: Francesca Sanna
Pages: 40
Content Advisory: None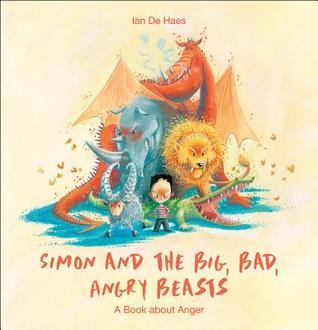 Simon and the Big, Bad, Angry Beasts is a story about a boy who expresses his anger in harmful ways, which begin to manifest themselves as progressively meaner beasts that lash out at his friends and family. Though it feels good at first, Simon eventually realizes that his beasts are not making things better -- in fact, they're making it so that no one wants to be around him. By learning to be more calm and mindful, he is able to find a healthier way to deal with his anger.
I think this story works very well as a parable of sorts, and though I can't personally speak to its effectiveness, I can see how it could be useful in helping to give children a visual and fantastical perspective on how unmanaged anger can hurt others and them. I don't know whether or not this would be the kind of story I'd just randomly pick up to read with a child who doesn't struggle with anger -- I see it as more of a teaching tool, but it looks like a good one.
The story focuses a lot more on the anger part than on the management -- it wraps up rather quickly and somewhat abruptly, but the book does include a lot of explanations, tips, and encouragement in the end notes about how it can be used to help children who need it, so hopefully this will be a valuable tool for parents and educators.
(Thanks to NetGalley for the review copy.)
Scrounged From: NetGalley
Format: Kindle
Author/Illustrator: Ian De Haes
Pages: 40
Content Advisory: None

Blogs on This Site

Reviews and book lists - books we love!

The site administrator fields questions from visitors.

Like us on Facebook to get updates about
new resources