scrounge: /skrounj/ informal verb: to actively seek [books] from any available source
Category results for 'the-ocean'.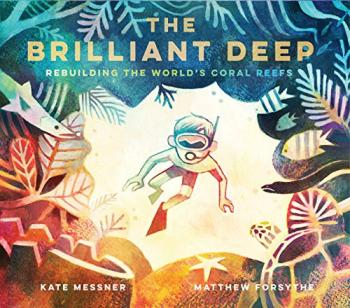 The Brilliant Deep is partially about Ken Nedimyer, the founder of the Coral Restoration Foundation. It tells about his passion for the sea, and the process he used to transplant healthy coral to dying and shrinking reefs in order to help them thrive again.
(When I read this it instantly reminded me of an episode of Reading Rainbow, in which I clearly remember watching scuba divers gluing coral to rocks. I looked it up and that episode featured a different "coral doctor" than this book, but it appears that the idea is the same.)
But this book is also about how one person can make a difference, and how growth and multiplication of a good thing can help turn the tide (no pun intended) of something bad. The stunning artwork blends so many colors together in a way that conjures up what it must feel like to be surrounded by the dazzling and diverse shapes and colors of living coral. Just as the colors meld together to form something amazing, this story can remind us how interconnected all of life is. 
Scrounged From: Our local library
Format: Hardcover
Author: Kate Messner
Illustrator: Matthew Forsythe
Pages: 48
Content Advisory: None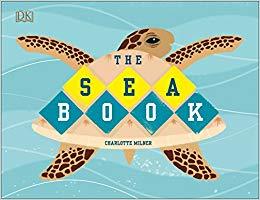 I really enjoyed Charlotte Milner's The Bee Book (see my review here), and even based a homeschool summer science unit around it. So I was happy for the chance to review The Sea Book, another installment (rhyming, even!) from the same author/illustrator. 
Like the previous book, this one features clear designs and colorful illustrations (with lots of blue, of course), and begins with the big picture of the oceans on our planet, and then "zooms in" to look at specific areas and ecosystems (such as coral reefs, kelp forests, and the arctic), as well many examples of the types of sea creatures that inhabit them. The blocks of text are fairly short and concise, but there are enough pages here that this would probably be best read in multiple sittings, at least if read to young children.
The last few pages focus on the problem of plastic trash in the ocean, and give some ideas for how we can help keep our planet clean. There is also a tutorial for how to make a reusable shopping bag out of an old T-shirt! I like how this section seems to flow in a straightforward manner from the rest of the book and takes the problem seriously without coming across as heavy-handed.
I think this one will be a great addition to our homeschool library as well.
(Thanks to NetGalley for the review copy.)
Scrounged From: NetGalley.com
Format: Kindle
Author/Illustrator: Charlotte Milner
Pages: 48
Content Advisory: None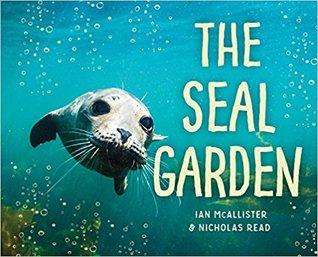 The photography in The Seal Garden is stunning. I love it when books use photographs of familiar creatures to introduce us to very specific places. This book covers "the seal garden," a special area of underwater vegetation in the Great Bear Sea off the coast of British Columbia, where seals and other animals can go to be safe from storms and predators.
There are some really lovely shots here, of seals swimming around under and above the water. My favorites were the pictures of shafts of light spreading through the water and plants. You get the feeling that this book was created by people who genuinely know and love the area, and is not just another "general nature information" project.
The text focuses on describing some of the animals that live in this environment and some of the things they may experience on a daily basis -- sheltering from a storm or a group of hunting orcas, eating fish, lounging on rocks, etc.
My only complaint is that I didn't see that the book ever actually tells us where the Great Bear Sea is, other than mentioning the Pacific Ocean. Since I'm not from the Pacific Northwest, the name was unfamiliar to me, so it's unfortunate that I had to resort to Google to figure out exactly where this place is located -- even a simple map would have been very helpful.
(Thanks to NetGalley for the review copy.)
Scrounged From: NetGalley
Format: Kindle
Author: Nicholas Read
Photographer: Ian McAllister
Pages: 32
Content Advisory: None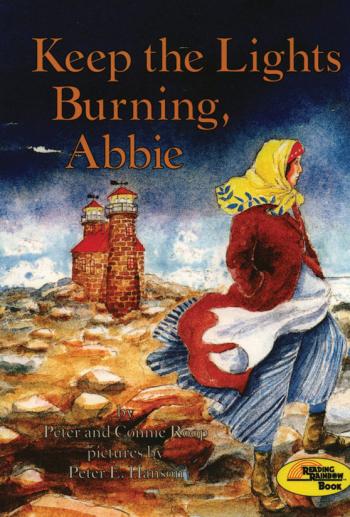 When I recently came across a copy of Keep the Lights Burning, Abbie, I remembered it from the PBS show Reading Rainbow -- none of the details, but I knew it was a story about a father who asked his daughter to keep the lighthouse lights burning while he was away. 
It turns out this is based on a true story that took place in my home state of Maine in 1856. Not only did Abbie have to keep the lights burning by herself for weeks while the storm raged and her father was unable to return to Matinicus Rock, but she also had to tend to her sick mother, feed (and rescue!) her chickens, and help her three sisters as they managed the household. 
I still find this story moving even though it's written in reader style with fairly short, choppy sentences. Most of all, I love the story of Abbie's courage, and the simple father-daughter moment at the very end. 
Scrounged From: A homeschool book sale
Format: Paperback
Authors: Peter Roop, Connie Roop
Illustrator: Peter Hanson
Pages: 40
Content Advisory: A bit of peril when Abbie is almost hit by a giant wave.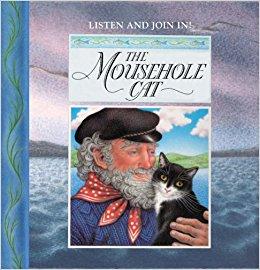 My children found The Mousehole Cat at the library, and I ended up enjoying it more than I expected to. It is a bit too wordy for toddlers, but tells a charming story of a cat named Mowzer who inhabits a small fishing village in England.
Mowzer's "pet," a fisherman named Tom, feeds her all kinds of fish dishes throughout the week, and takes good care of her. But one day, a storm has raged for so long that the village has been without fish and is in desperate need of food, and Tom decides he must go out in his boat and brave The Great Storm-Cat.
The entire story is written from the perspective of Mowzer, who sees the wind as a giant cat paw swiping at the entrance to their harbor. She goes out with Tom in hopes of helping him to calm this powerful cat.  
While I had a bit of trouble pronouncing all the names of the different fish dishes, we enjoyed this sweet story, and certainly any cat lover would as well.
Scrounged From: Our local library
Format: Paperback
Author: Antonia Barber
Illustrator: Nicola Bayley
Pages: 40
Content Advisory: None

Blogs on This Site

Reviews and book lists - books we love!

The site administrator fields questions from visitors.

Like us on Facebook to get updates about
new resources