scrounge: /skrounj/ informal verb: to actively seek [books] from any available source
Category results for 'farming'.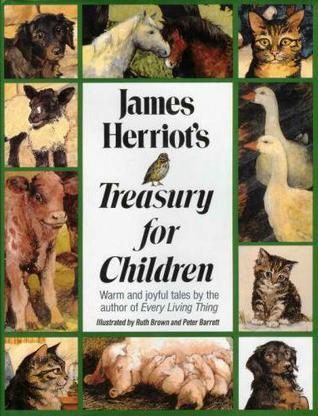 James Herriot is unparalleled when it comes to stories of domesticated animals -- whether dogs and cats in homes or various farm animals -- and his keen observations and clear love and respect for animals.

While the stories in James Herriot's Treasury for Children are fictional, all of them feel to me as if they easily could be true, and no doubt he drew heavily on his veterinary experiences in describing these unique animals and their amusing and tender escapades. 

Herriot manages to capture the human-animal bond, even with farm animals, evoking compassion, joy, and sometimes sadness, without sentimentalizing or emotionally manipulating the reader.

I grew up reading "Oscar, Cat-about-Town" and "The Christmas Day Kitten," both of which are included here, and was also introduced to some new favorites, such as "Blossom Comes Home" and "Smudge, the Little Lost Lamb." The illustrations perfectly capture the animals, people, and the views of the beautiful British countryside.

Because Herriot is British and uses some words that might be unfamiliar to American children (or perhaps it's a generational thing as well), and at times can be a bit wordy, some of these stories will probably lose the interest of preschoolers. But it's worth hanging on and trying them again later, because the best animal stories are really for all ages and have no need to be written off as "for little kids."
Scrounged From: HomeschoolClassifieds.com (Sonlight Core A)
Format: Hardcover
Author: James Herriot
Illustrators: Ruth Brown, Peter Barrett
Pages: 260
Content Advisory: As noted, a few stories are a bit sad.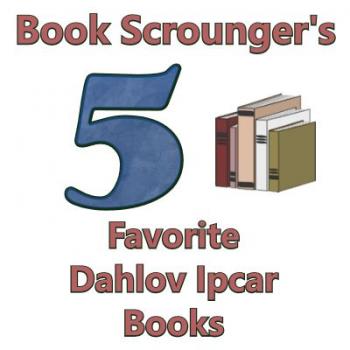 Artist Dahlov Ipcar died this past February, but today would have been her 100th birthday. In addition to a long career as an artist, she spent most of her life farming in the state of Maine (my home state).
Since I lack any familiarity with the "art world" in general, I probably would not have known much about her work if it had not been for her delightfully illustrated board books published by Islandport Press, which we first discovered when my oldest child was a baby.
After reading one, it became easier to spot her distinctive style when I saw it elsewhere, since her work is celebrated in many places in the state.
I love her use of color and joyful depictions of animals (both wild and domestic). Here are some of her books we've enjoyed the most: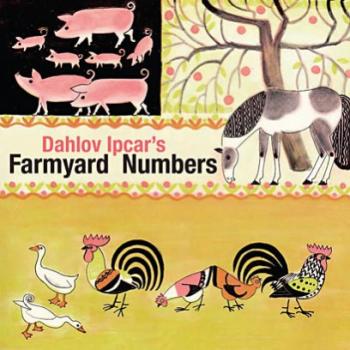 1. Farmyard Numbers was our introduction to Ipcar's art. It's a simple one-to-ten counting board book featuring favorite farm animals, and gentle rhyming text. Several of the illustrations in this book are cropped from larger scenes in Ipcar's earlier, longer book about the trials and joys of farm life called Hardscrabble Harvest.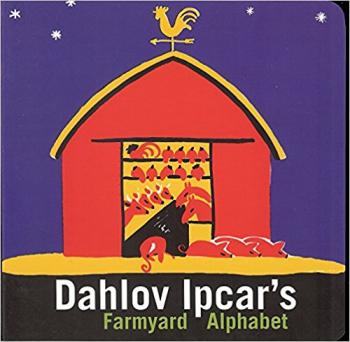 2. Farmyard Alphabet continues with the farming theme (which Ipcar had quite a lot of experience with). Short rhyming lines show us a different aspect of farm life for each letter -- Q for quilt, T for tractor ("that does everything"), E for eggs, J "is for jars, of jellies and jams," etc.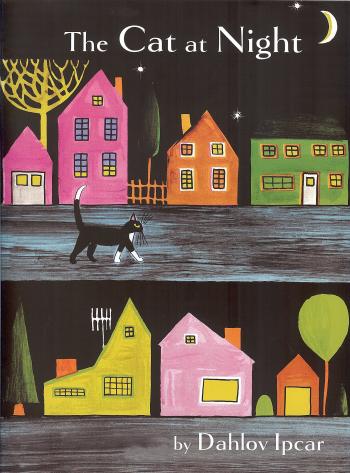 3. The Cat at Night is a wonderful look at the difference between what a cat can see at night and what a person can see. The pages alternate between dark silhouetted scenes and brighter versions of the same scene, showing how the cat knows where to go even when it's dark to us. My children enjoyed trying to find the cat on the silhouetted pages.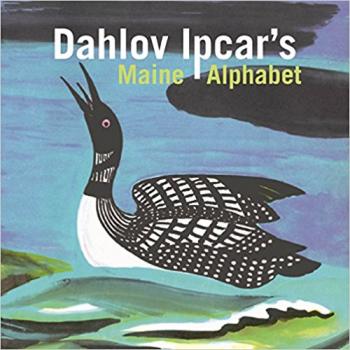 4. Dahlov Ipcar's Maine Alphabet board book is a beautiful celebration of the state that was her home for most of her life. From the coast to the woods (L for lobster and M for moose, of course), this is a lovely rhyming romp through the great state of Maine.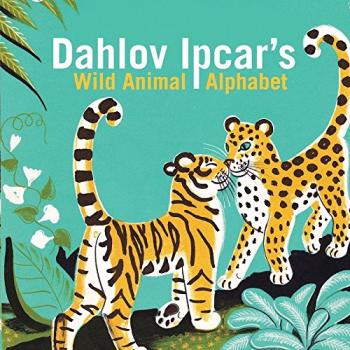 5. I love the different color combinations in Wild Animal Alphabet -- so many earth tones and golds paired with vibrant blues and greens. Once again, the illustrations are accompanied with rhyming text that's "short and sweet" enough to hold the attention of toddlers. From ibex to quail to "zebra, who always comes last," this is a lovely and fun look at wild animals (including a few doing nontypical things like the kangaroo beating on drums).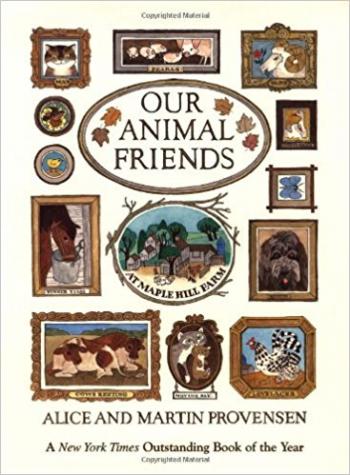 Our Animal Friends at Maple Hill Farm is a book that doesn't have a singular narrative story to it, but works well as a delightful introduction to the animals on a particular farm. You feel as if the farmer has taken you by the hand and led you around, introducing you to the different kinds of animals and telling you their names, as well as pointing out their idiosyncrasies and personality quirks. You feel like you're learning from someone who has developed years of experience and patience in working with animals.
I use the word "delightful" because it really comes across that the author is someone who delights in their animals, even when they are being annoying or difficult to manage. This perspective manages to give the animals respect and dignity (and names) without anthropomorphizing them.

We get to meet the "four special cats," learn what makes each of them unique, and see a few vignettes of what each of them do throughout the day, together or alone.

We learn about how wonderful geese are except for one particular trait: they have bad tempers.

We are told all about the horses and how they interact together. We hear about how Ibn Rafferty hurt his foot, doesn't like to come when he's called, and likes to roll in the mud after he's been cleaned.

We're also told about "other neighbors" on the farm, the non-domesticated animals that stop by once in a while, from chipmunks to hawks, ants, and field mice.

And much more.

It is so fun to get to know the animals on Maple Hill Farm, but even more, this book encourages us to study, observe, and look for the uniqueness in all animals, no matter where they live. 
Scrounged From: A present for our kids
Format: Paperback
Authors/Illustrators: Alice and Martin Provensen
Pages: 64
Content Advisory: None

Blogs on This Site

Reviews and book lists - books we love!

The site administrator fields questions from visitors.

Like us on Facebook to get updates about
new resources