scrounge: /skrounj/ informal verb: to actively seek [books] from any available source
Category results for 'music'.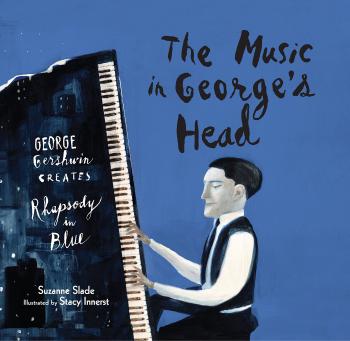 While living in the UK, my family somehow acquired a cassette tape (yes, this was in the 90s) at a gas station (or petrol, as they called it there) called "Miles of Classical." It contained several well-known orchestral pieces of music, including Strauss's "Blue Danube," a movement from Tchaikovsky's "Swan Lake," and, the fifth and last piece on side 1 of the cassette, George Gershwin's "Rhapsody in Blue," or at least an abbreviated version of it.
Other than "The Nutcracker," I didn't have much love for orchestral music, but listening to that cassette over and over and over on long drives really helped me and my siblings to develop more appreciation for some of these favorites. I'm still not sure I really "understand" jazz music, but Gershwin's piece was definitely my favorite on that cassette. It reminded me at various points of a morning sunrise and a predator/prey chase scene. The piano solo always amazed me. I would try to visualize the showmanship and talent that a piece like that must require. It wasn't until adulthood that I heard the piece in full, and also learned that Gershwin gave the opening notes to a clarinet rather than a saxophone, which made me like him even more (I took clarinet lessons in high school but never did anything cool like that with it).
So when I heard there was a book out called The Music in George's Head: George Gershwin Creates Rhapsody in Blue, I knew I had to procure it someday. There were few pieces of music that I would have been more interested in learning about than this one, but I also wondered how the translation of jazz-to-picture-book would go. 
I think it's fabulous. Everything is drawn in shades of blue with some earth tones thrown in -- gray-blues on the city streets, navy blue swirls of musical notes and piano keys, baby blues for people and sheets of music.. the whole book comes alive in a jazz-blue world, where it recounts factual information but also skips and bumps along at times with a steady, jazzy feel. Most of the text is written in a normal cadence and is not difficult to understand or read, but sometimes we have a "rattle-ty bang" of train tracks or the "WuaaaAAA..." of the clarinet. 
"Sleepy eyes flew open. Restless listeners sat still. People heading for the door hurried back to their seats. Trombones and trumpets blew brassy sounds -- small and soft, then big and bright. Velvety violins started to sing. More musicians joined in. Each carefully playing their sheets of music. Fingers flying, George made those piano keys MARCH. SKIP. Dance. But he didn't have sheet music. George played the notes in his head."
Wish I could've been there!
Scrounged From: PaperbackSwap.com
Format: Hardcover
Author: Suzanne Slade
Illustrator: Stacy Innerst
Pages: 48
Content Advisory: None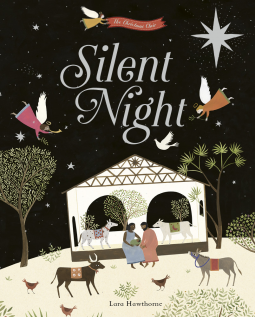 I have read illustrated versions of Silent Night before, but I appreciate this one for a couple reasons.
For one thing, I really like the illustrations, especially the contrasting tones -- the dark backgrounds make the central figures and settings of the nativity story stand out all the more, perfectly portraying the paradox of both "night" and "all is bright," reminding us how strongly a light can stand out in the darkness.
Also, I appreciate that the people in the scenes here are portrayed as the Middle Easterners that they were, with dark skin, rather than Americanized as whitewashed Caucasians, which has long been a problem with the way the nativity (and Jesus in general) has been presented to children. 
It can be a lot of fun to "sing" a book to children when we're used to reading, so this is a lovely way to package this beloved Christmas carol.
(Thanks to NetGalley for the review copy.)
Scrounged From: NetGalley.com
Format: Kindle
Author: Joseph Mohr
Illustrator: Lara Hawthorne 
Pages: 32
Content Advisory: None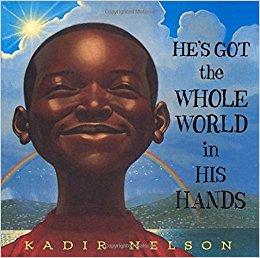 The song He's Got the Whole World in His Hands was one of my favorites to sing as a child, but I never knew it was originally a spiritual.
Sometimes it's a nice change (and a lot of fun) to sing a picture book instead of just reading it, especially with small children. Kadir Nelson has created some wonderful images to accompany the song, focusing on a boy and his family as they interact with nature and with each other, creating a vision that reaches from the individual person to the planet as a whole. 
Scrounged From: Our local library
Format: Hardcover
Author: Unknown
Illustrator: Kadir Nelson 
Pages: 32
Content Advisory: None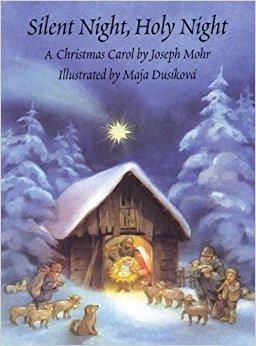 Merry Christmas, and thank you for following along with our Christmas book countdown! It's been fun reading and writing, and we hope this series has been fun and informative for you as well. For the complete list of titles we've reviewed over the past few weeks, see the beginning page here.
For Christmas day, as our countdown comes to an end, we've chosen a simple and reverent version of Silent Night, one of the loveliest carols of all. This book simply includes the text of the carol (printed with music at the end), with illustrations that portray the cools of winter and the warmth of Jesus' birth. The illustrations present a mix of elements from modern day as well as from 2,000 years ago.
Scrounged From: Our local library
Format: Hardcover
Author: Joseph Mohr
Illustrator: Maja Dusikova
Pages: 32
Content Advisory: None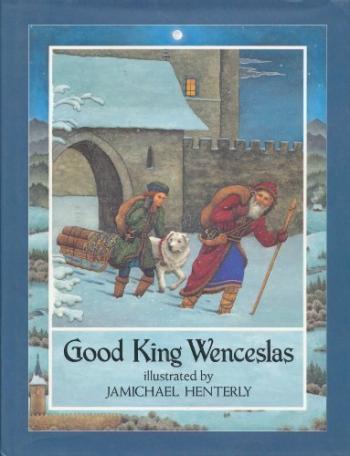 "Good King Wenceslas looked out
On the Feast of Stephen..."
And that's about all I could have recited of this song, except a mention of "Saint Agnes' fountain," and several archaic terms like "thither" and "hence." Though I had heard it sung before, I'd never actually looked up the lyrics until now. Fortunately, this picture book version of Good King Wenceslas has helped to give me a much fuller image of what the song is about.
The text is simply the words to the song, with wintery illustrations telling the story of the king who looked out and saw a peasant gathering wood for fuel, and decided to bring him food and wine to bless his family on that cold winter night (I can appreciate that this book changes the original word "flesh" to "food" to avoid any confusion).
While there is no specific mention of "Christmas" in this song, the image of a king leaving his safe and warm castle to help someone in need is extremely reminiscent of the Christmas story. Although I've never celebrated Saint Stephen's Day, it is observed on December 26 (27 for some) by Christians around the world, and therefore I found this song, as well as its admonition to "bless the poor" very fitting for a celebration of Christmas.
Scrounged From: Our local library
Format: Hardcover
Author: John Mason Neale
Illustrator: Jamichael Henterly
Pages: 24
Content Advisory: None
Older posts

Blogs on This Site

Reviews and book lists - books we love!

The site administrator fields questions from visitors.

Like us on Facebook to get updates about
new resources